Scribendi President Among Top 50 of PROFIT W100's Top Female Entrepreneurs
One of Canada's top female entrepreneurs for the sixth consecutive year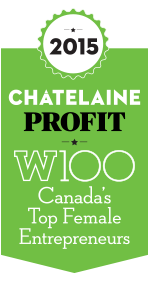 The PROFIT/Chatelaine W100 ranking is an awards program that has been celebrating the achievements of entrepreneurial Canadian women for the past 17 years. Chandra Clarke, president of the world's oldest and largest online editing and proofreading company, Scribendi.com, has not only made the list for her sixth year in a row but has also climbed a full 50 places up the rankings since last year, earning a spot at number 46.
"We're very happy to have achieved such a good rank this year," says Clarke. "It's an honor to be among the top 50 female entrepreneurs in Canada."
Clarke founded Ontario-based Scribendi in 1997 and has since expanded the company into a global enterprise. The round-the-clock editing service is not Clarke's only accomplishment, however. She also publishes a weekly humor column; has published several ebooks, including Be the Change: Saving the World with Citizen Science; and has turned Scribendi's highly effective internal training program into a series of successful online courses.
"The members of the W100 aren't just inspirational figures," says James Cowen, editor-in-chief of Canadian Business and PROFIT. "They're smart businesspeople who have demonstrated the tenacity and creativity needed to thrive as entrepreneurs." Cowen, an advocate for the due recognition of successful women in business, says that having positive female role models makes a demonstrable difference in challenging gender inequality in the corporate world.
"Their strategies and business tactics are lessons to anyone," says Cowen, "regardless of whether you're male or female, work at a start-up, or run a multi-million enterprise."
Clarke and the other talented and ambitious women selected by this program will be featured in the summer issues of Chatelaine and Canadian Business magazines and on the website PROFITguide.com, and they will participate in this year's W100 Idea Exchange networking event.