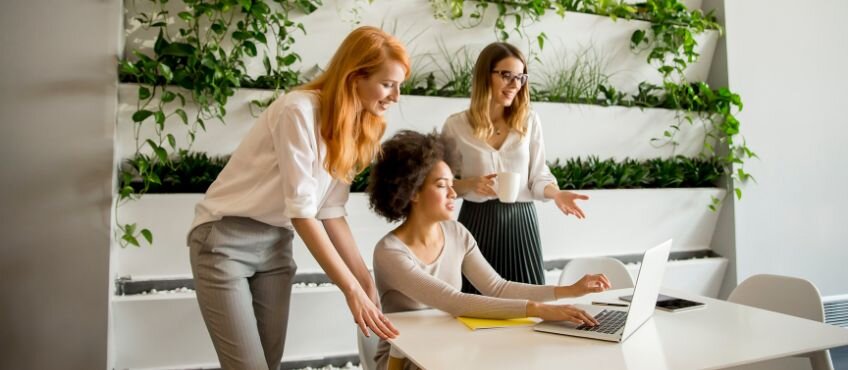 ---
Scribendi is proud to announce its fourth consecutive placement on the list of Best Workplaces™ for Women by Great Place to Work®.
Chatham, Ontario, March 10, 2022: Established editing and proofreading company Scribendi lands on the Best Workplaces™ for Women list by Great Place to Work® for the fourth year in a row.
Certification as a Best Workplace™ for Women is an esteemed yearly accreditation that recognizes companies with a minimum of 15 female employees. At least 90% of employees must also agree in a direct survey that they receive fair treatment regardless of gender.
Since its inception, Scribendi has been a women-led company, establishing its roots in 1997 with Canadian founder Chandra Clarke. With Patricia Riopel at the helm since 2017, Scribendi has been steadfast in promoting an equal opportunity mindset.
Women make up more than half of the leadership team at Scribendi, driving innovation and advancing key business decisions. Jessica Mallender, Scribendi's Manager of Operations and Analytics, states she is proud to be a part of the Scribendi team because "everyone has the equal opportunity to share ideas and join discussions."
"At Scribendi, we all contribute to the overall success of the company," Mallender said.
Over the years, Scribendi has carved a place for itself on multiple Great Place to Work® lists for its celebration of creativity and innovation, as well as a collaborative corporate culture. For instance, Scribendi has been placed on the List of Best Workplaces™ Managed by Women for three years running.
In addition, in 2021, Scribendi President Riopel was recognized as TekSavvy's 2021 WEtech Woman in Tech of the Year, a recognition that highlights achievements by women in technology fields.
Follow Scribendi on Facebook or Twitter for more news.
---
About Great Place to Work®
Great Place to Work® is the global authority on high-trust, high-performance workplace cultures. Through proprietary assessment tools, advisory services, and certification programs, Great Place to Work® recognizes the world's Best Workplaces™ in a series of national lists, including those published by The Globe & Mail (Canada) and Fortune magazine (USA). Great Place to Work® provides the benchmarks, framework, and expertise needed to create, sustain, and recognize outstanding workplace cultures.
About Scribendi Inc.
Scribendi Inc. is an ISO 9001:2015-certified online editing and proofreading company dedicated to helping people reach their goals through the written word. With over 540 editors and hundreds of thousands of clients around the world, the company has a global reach. Scribendi's editors are aided by the company's devotion to developing new technology in order to enhance editors' already formidable editing and proofreading skills by boosting the efficiency and consistency of their edits. This technology allows Scribendi to deliver high-quality services every time.
For more information about professional editing and proofreading services, please visit https://www.scribendi.com/.
For more information about innovative editing technologies, please visit https://www.scribendi.ai/.
For more information about specialty academic services, please visit https://www.merudio.com/.
---
Scribendi Inc.
405 Riverview Drive, Suite 304
Chatham, ON N7M 0N3
Canada