Business People
How do I get the word count for my PDF?
How to Determine the Word Count in a PDF
Step 1: Open your PDF
Go to "Edit," and click "Select All." This will highlight all the text in the PDF.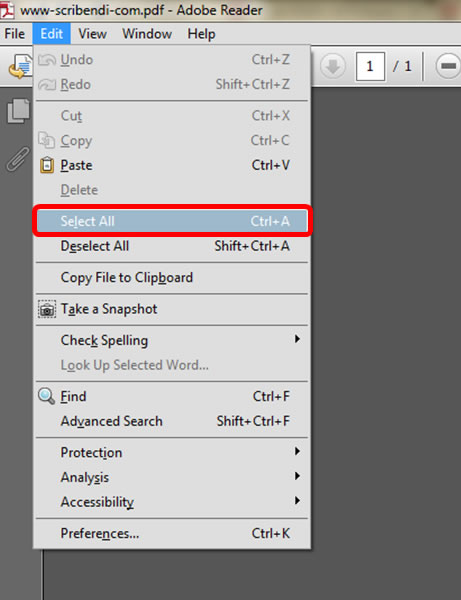 Step 2: Copy the text
Now that the text is highlighted, you need to copy it. To copy the text, go to "Edit," and click "Copy."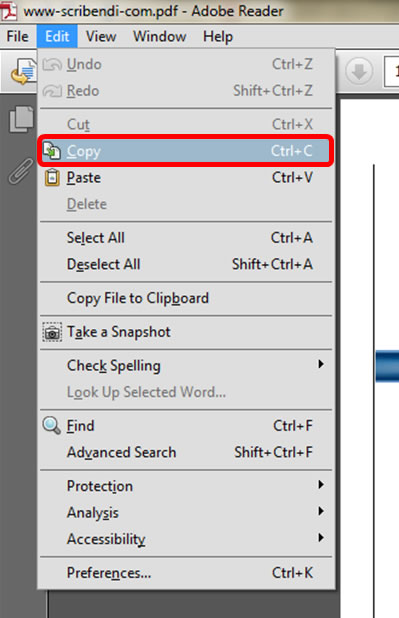 Step 3: Use the Word Count Tool
When the text has been copied, you will need to paste it into Scribendi's Word Count Tool.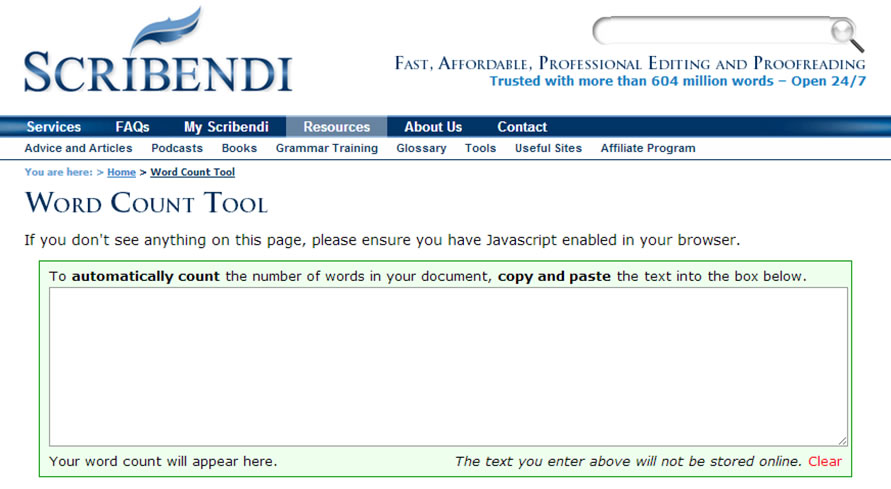 Step 4: Paste the text
Paste the text into the Word Count Tool. To do this, right-click and select "Paste."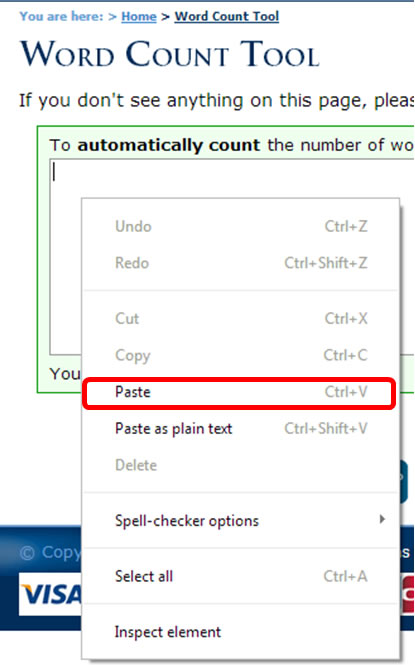 Step 5: Get your word count
When the text is pasted, your word count will appear in the bottom left-hand corner of the Word Count Tool box.

How do I convert my webpages into PDFs?
Converting Webpages into PDFs
Before you start converting your webpages into PDFs, it's a good idea to create a folder to keep your PDFs organized.
Step 1: Visit the web site
Go to: http://www.HTMLPDF.com/. You do not need to make any changes to the conversion options (Page Orientation, Page Size, etc.)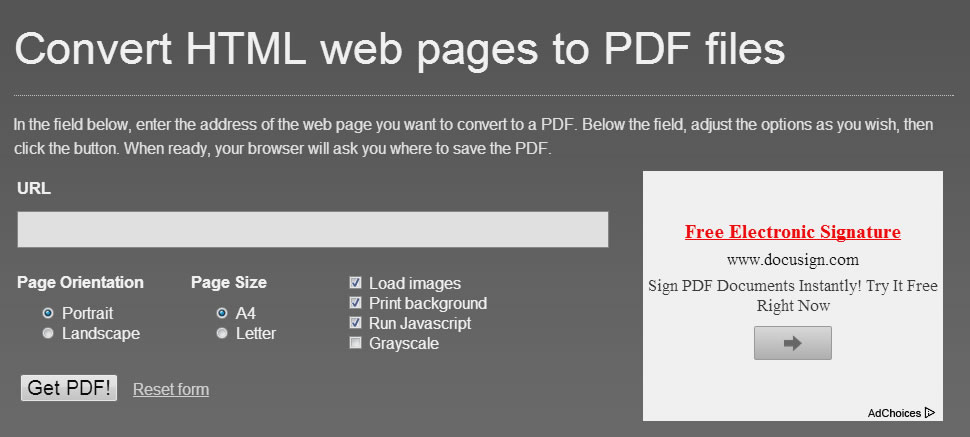 Step 2: Enter URL into a text box
To convert your webpage into a PDF, simply enter your URL into the text box. Once you are done, click "Get PDF!"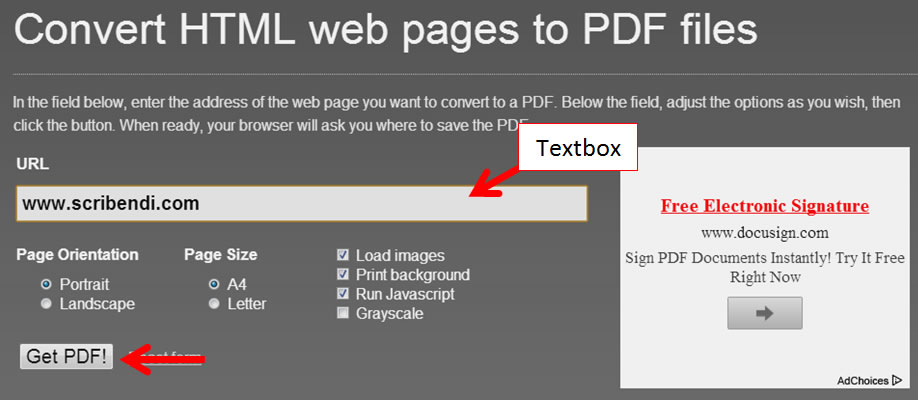 Step 3: Download PDF
When the conversion is done, you will be prompted to save your PDF in your PDF folder.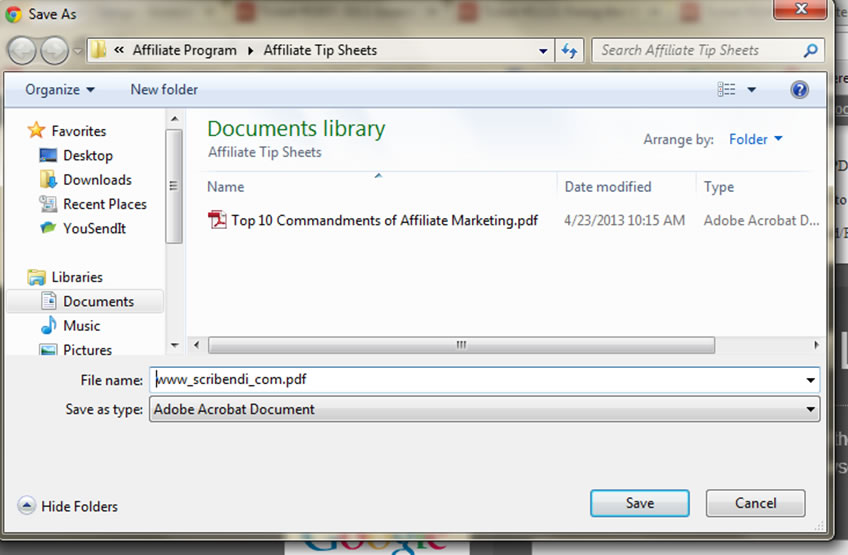 Select the folder in which you want to save your PDF, and click "Save."
Repeat this process for each webpage you would like to convert to a PDF.
Your website seems mostly upload/email based. I have a slow Internet connection. Can I fax/post you stuff?
Sure! You can fax short documents to us, or use the post office or a courier service to send us a floppy disk, CD, or paper copy for longer documents. Just see our contact page for details on how to get in touch via post or courier.
I submitted an MS Word file, and I have my document back, but I can't see what you've changed. Why is that?
It may be that you have the "Show Markup" feature turned off. In MS Word 2016, click on the "Review" tab. In the section named "Tracking," there are three drop-down menus—they're to the right of the button named "Tracked Changes." Click on the top one. Choose "All Markup." Then, click the "Show Markup" menu to make sure all the markup options are checked, including "Insertions and Deletions."
In Word 2007/Office XP, click on the tab named "Review." In the section named "Tracking," there are three drop-down menus—they're to the right of the button named "Balloons." Click on the top one. Choose "Final Showing Markup."
In older/other versions of Word/Office, go to the Tools menu, select Track Changes, select Highlight Changes, and make sure Highlight Changes on Screen is checked. See our How Do I...? FAQ for screenshots. If you still don't see any changes, contact customer service.
Do you have a minimum order size?
No. We do have a minimum charge of $7.00 USD, however, to cover administrative costs. If you have several small orders to make, you might consider putting them all on one order to avoid the minimum charge.
I'm concerned about copyright. You guys won't steal my story or my ideas, will you?
Absolutely not. Scribendi.com and its employees make no claim on your copyright, and we don't require credit or acknowledgment on material you've written, or anything else beyond the fees for the services we render.
What about confidentiality? The materials we have are private or personal, and/or refer to business procedures or other sensitive subjects.
Only Scribendi.com employees have password access to our website and order system, and they are required to sign a confidentiality agreement before they can work for us. All client files are deleted from the site after four weeks, unless a client requests that we keep a copy for future reference. We do not sell, trade, or rent your personal information. We also have a secure site. Scribendi.com uses industry standard (256-bit SSL) or higher encryption for communications between your computer and our site. If you require a specific nondisclosure agreement, contact us, and we'll send one to you.
What are your credentials? Is your company qualified to handle my manuscript/document?
Before we'll even consider hiring them, all our editors and proofreaders must, at a minimum:
Have a university degree or college diploma
Have at least three years of professional experience as an editor or proofreader
Be native English speakers
Provide samples of their editing and proofreading work
Pass a language certification test
A typical Scribendi.com Word Warrior has two or more degrees, 15 years of professional experience, and is published in his or her chosen specialization, be it romantic fiction or molecular biology. See what our customers have to say about our qualifications—view a long list of recent comments and customer feedback on our Client Testimonials page.
What are your payment options?
Our preferred method of payment is via credit card: we accept Visa, MasterCard, American Express, and JCB cards. Scribendi.com uses a secure system and receives your information through industry standard encryption. We can also accept Discover and Switch/Solo cards through PayPal, as well as PayPal payments. Registered retail customers and corporate/government/organizational clients can arrange payments via ACH, eCheck, paper check, or money order.
What are your prices based on?
We have a no-surprises, easy-to-calculate pricing system based on two things: word count and turnaround time. Unlike other editorial and language services companies, we don't offer vague quotes based on a hefty hourly rate, we don't have confusing per-1,000-word rates, and we provide instant quotes for all our standard services. Every service page you look at on this site has a handy "quote widget," where you can plug in your word count and get an exact price. For details on how to determine your word count, see our How Do I...? FAQ.
When do I get a price break?
Our quote widget automatically calculates and applies a discount: A) when you choose a service with a longer turnaround time, and B) when you want us to work on a large document. For example, it's cheaper to order the 48-hour turnaround service than it is the 24-hour service. Or if you have a very large document, we apply discounts for higher word counts.
If you belong to a business, organization, or agency and would like to retain our services for a large project or over the longer term, we would be happy to discuss your needs. See our Corporate and Government services page for details.
I submitted an MS Word file, and now I have all your revisions and suggestions highlighted in red. How do I integrate these changes quickly?
How long will it take to get my document back?
That depends on the service you order! We offer the following turnaround times for editing and proofreading:
Same day/overnight premium service: within 8 hours (for documents of 4,000 words or less).
12-hour service: within 12 hours (for documents of 6,000 words or less).
24-hour service: within 24 hours (for documents of 10,000 words or less).
48-hour service: within 48 hours (for documents of 25,000 words or less).
72-hour service: within 72 hours (for documents of 40,000 words or less).
1-week service: within 1 week (for documents of 65,000 words or less).
Larger documents: rule of thumb for editing and proofreading = 65,000 words per week.
I submitted a file type other than MS Word, and I have my document back, but I can't see what you've changed. Why is that?
Unfortunately, very few word processing programs have anything similar to MS Word's Track Changes feature, which allows our editors and proofreaders to highlight changes in red so you can see them more easily. Our staff will have summarized their changes in their notes back to you, however, and you can compare what we've sent back to you with your original document.
I live in another country. Can I still use your service?
Definitely. Scribendi.com is a global company in every sense of the word. As long as you have a valid credit card or PayPal account or can arrange to send a check or money order, you can use our services.
What style guides do you work with?
We have worked with dozens of style guides. The most popular are American Psychological Association (APA), Modern Language Association (MLA), Turabian, Chicago Manual of Style, Harvard Referencing, and Council of Science Editors (CSE). We can work to your target journal's style guide (just send us the details), and we can work with corporate/internal style guides as well.
What if I'm not satisfied with the work done?
Scribendi.com takes customer satisfaction very seriously. Please file a feedback report with us (there will be a link on your order details page), or get in touch with us using the Scribendi.com Contact Us page or +1 (519) 351-1626 and we will look into your issue immediately.
What kinds of things do you edit?
Everything. And we're not kidding here, either. We have experts on staff in every field/genre, and since we've been in business so long, we've seen just about every different type of document there is. So no matter what subject or field you're writing about, rest assured we have someone who can edit it.