Partner With Us
About Scribendi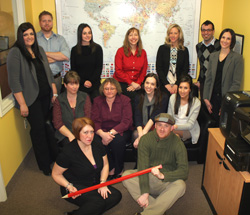 Scribendi is the world's leading online editing and proofreading company. We employ more than 300 editors and support staff; our headquarters are in Chatham, Ontario, Canada. Scribendi.com has edited more than one billion words and reviewed more than 400,000 orders.
Scribendi is actively seeking partnership opportunities. Learn how we can help you increase your revenue, expand your reach, and build your brand through some of our exciting partnership opportunities.
Affiliate Program
You can earn money as a Scribendi affiliate simply by referring your website visitors or social media friends to our site through a special link. We offer 10% commissions on sales! To apply, please click here. For more details, please email marketing@scribendi.com with the subject line "Affiliate Program."
Corporate Accounts
Working with a dedicated account representative and a custom service offering, you will be able to grow your business—building your brand and expanding to new markets—by outsourcing your editing and proofreading needs.
Online Grammar Training for Businesses and Schools
With the GrammarCamp.com grammar training course, we can work together to train your personnel, helping to eliminate costly business communication errors, which saves you both time and money.
Scribendi API
You can use our editing services application programming interface (API) to re-sell our services on a white label or value-added basis, complementing your existing products and services.
You can also integrate our services directly into your documentation workflow, streamlining your business operations.
Online Editing and Proofreading Training for Businesses
With EditingCamp.com and ProofreadingCamp.com, we can help train your staffers in editing and proofreading skills, ensuring your team can catch costly errors in internal communications, marketing materials, and so much more. Don't let errors slip through; train your staff with these easy, affordable online training programs.
Content Sharing/Guest Blog Opportunities
By sharing our well-known and respected writing advice articles and podcasts, you can educate your audience and gain a meaningful and active following.
Looking for custom content? We welcome opportunities to create content for your blog or social media accounts. We also welcome submissions for guest blog posts that would be relevant to our audience.
Investor Relations
Scribendi.com is a privately held corporation with a track record of profitability and capital growth. Investment and partnership inquiries are welcome.
To get in touch about any of the above, or to propose additional opportunities, please email us at business@scribendi.com.