Written by Scribendi
---
How to Stay Motivated During NaNoWriMo
Why do I write? Most writers have asked themselves this question at one point or another (usually during a stint of writer's block). Being a writer comes with a lot of stress—there are editors, deadlines, and of course, critics—yet you write anyway.
Some of the greatest authors have asked themselves this same question to define what makes the difficult and time-consuming process of writing quite so satisfying.
During National Novel Writing Month, when we are all trying to type away at our 50,000 world-altering words, it can be beneficial to remind ourselves why we started. Here's what 16 authors had to say about what compels them to write.
Inspirational Writing Quotes by Famous Authors
"I think all writing is a disease. You can't stop it."
—William Carlos Williams, award-winning American poet
"There is no greater agony than bearing an untold story inside you."
—Maya Angelou, American poet and civil rights activist known for I Know Why the Caged Bird Sings
"I don't need an alarm clock. My ideas wake me."
—Ray Bradbury, novelist known for Fahrenheit 451
"There is something delicious about writing the first words of a story. You never quite know where they'll take you."
—Beatrix Potter, children's book author known for The Tale of Peter Rabbit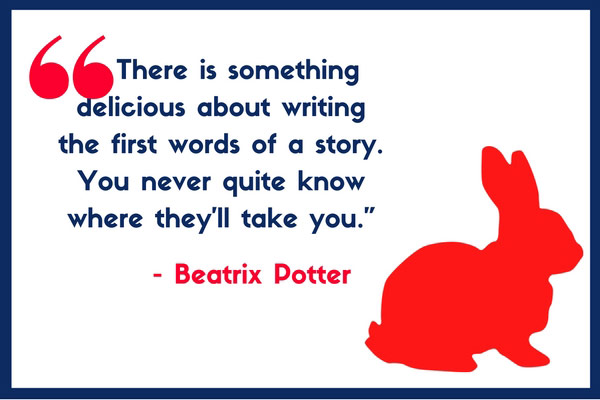 "For your born writer, nothing is so healing as the realization that [s]he has come upon the right word."
—Catherine Drinker Bowen, author of nonfiction and biographies
"People say, 'What advice do you have for people who want to be writers?' I say, they don't really need advice, they know they want to be writers, and they're gonna do it. Those people who know that they really want to do this and are cut out for it, they know it."
—R.L. Stine, American novelist best known for the Goosebumps series
"Child, to say the very thing you really mean, the whole of it, nothing more or less or other than what you really mean; that's the whole art and joy of words."
—C.S. Lewis, British novelist known for the Narnia series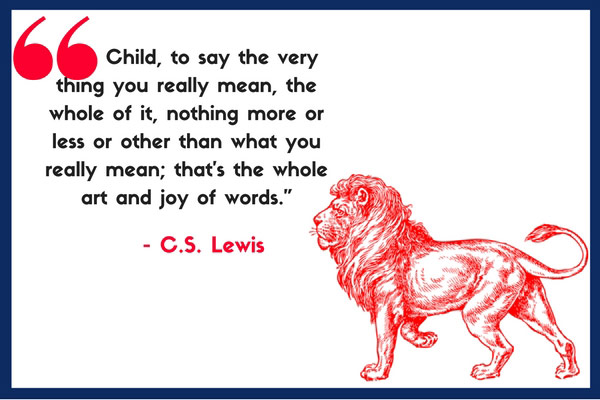 "The writing of a novel is taking life as it already exists, not to report it but to make an object, toward the end that the finished work might contain this life inside it and offer it to the reader. The essence will not be, of course, the same thing as the raw material; it is not even of the same family of things. The novel is something that never was before and will not be again."
—Eudora Welty, American novelist and short story writer
"If there's a book that you want to read, but it hasn't been written yet, then you must write it."
—Toni Morrison, novelist, editor, and Princeton University professor known for Beloved and Song of Solomon
"If you want to change the world, pick up your pen and write."
—Martin Luther, German professor and a key figure in the Protestant Reformation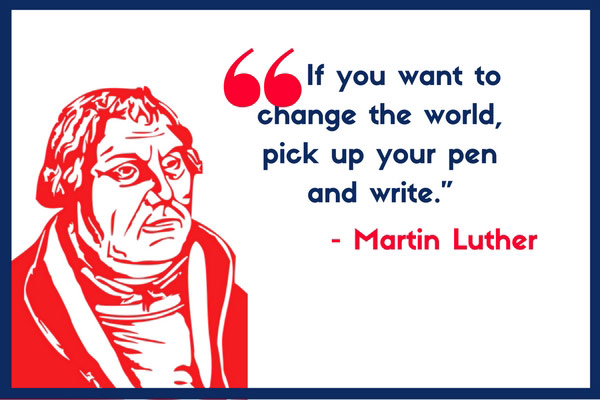 "Who wants to become a writer? And why? Because it's the answer to everything. … It's the streaming reason for living. To note, to pin down, to build up, to create, to be astonished at nothing, to cherish the oddities, to let nothing go down the drain, to make something, to make a great flower out of life, even if it's a cactus."
—Enid Bagnold, British author and playwright known for National Velvet
"Tomorrow may be hell, but today was a good writing day, and on the good writing days nothing else matters."
—Neil Gaiman, British author of 39 novels, comic books, and graphic novels, including Coraline
"I write to give myself strength. I write to be the characters that I am not. I write to explore all the things I'm afraid of."
—Joss Whedon, American screenwriter known for The Avengers and Buffy the Vampire Slayer
"Writing isn't about making money, getting famous, getting dates, getting laid, or making friends. In the end, it's about enriching the lives of those who will read your work, and enriching your own life, as well. It's about getting up, getting well, and getting over. Getting happy, okay? Getting happy."
—Stephen King, American author of over 50 novels, including The Shining, Carrie, It, and The Stand
"When I sit down to write a book, I do not say to myself, 'I am going to produce a work of art.' I write it because there is some lie that I want to expose, some fact to which I want to draw attention, and my initial concern is to get a hearing."
—George Orwell, British novelist known for 1984 and Animal Farm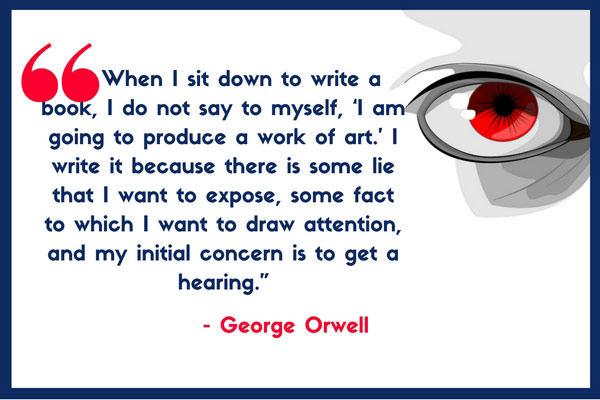 "A person is a fool to become a writer. His only compensation is absolute freedom. He has no master except his own soul, and that, I am sure, is why he does it."
—Roald Dahl, British children's author known for Matilda, James and the Giant Peach, and Charlie and the Chocolate Factory
Closing Remarks
Sometimes, when you are at a loss for what to write next, the best thing to do is start at the beginning and remember why you write. We hope these quotes from some of our favorite authors have provided you with the writing inspiration you need to keep going.
When your novel is finished, check out our book editing services to get your novel ready for publication.
Image source: Prostock-studio/elements.envato.com

---
Revise Your Work with the Help of a Professional Editor.
---
About the Author

Scribendi's in-house editors work with writers from all over the globe to perfect their writing. They know that no piece of writing is complete without a professional edit, and they love to see a good piece of writing transformed into a great one. Scribendi's in-house editors are unrivaled in both experience and education, having collectively edited millions of words and obtained nearly 20 degrees. They love consuming caffeinated beverages, reading books of various genres, and relaxing in quiet, dimly lit spaces.