Editor's Note: The following article is a guest post by Harry Bingham.
---
Your mind is blank.
You have a deadline looming, but your writing inspiration has run dry. You've tried all the common ways to kickstart your imagination, but nothing's worked. So, you trawl the Internet but only find articles offering the same old, tired advice.
What's the answer?
Well, I used to have the same problem until I started trying uncommon ways to spark my imagination. Now, I'm never short on ideas, so in this article, I share my favorite uncommon places to look for writing inspiration.
1. Look at famous art
Throughout the ages, great paintings have inspired authors, so try taking a walk around your local art gallery. If you can't for any reason, look at art books or Google "famous paintings."
Examples:
Tracy Chevalier's novel Girl with a Pearl Earring is named after Johannes Vermeer's famous portrait of the same name.
Jeanne Lakogridis's main character in I, Mona Lisa is inspired by Van Gogh's enigmatic masterpiece Mona Lisa.
Dan Brown took the way Leonardo da Vinci posed his subject in the portrait Vitruvian Man and posed his victim in The Da Vinci Code in the same way.
2. Listen to great music
Great music, like great paintings, has also inspired writers. If you're in need of some inspiration, try listening to an eclectic playlist; from opera to the Beatles, you'll be sure to find something that will get those creative juices flowing. Try Scribendi's playlist for productivity.
Examples:
Japanese writer Haruki Murakami chose a song by the Beatles to be the title of his novel Norwegian Wood and made one character a fan of theirs.
Nick Hornby's High Fidelity not only takes its name from an Elvis Costello song, but the novel's setting, a record store, is inspired by the song.
The classic blues song "Bright Lights, Big City" became the title of Jay McInerney's novel about 1980s Manhattan.
3. Study famous historical events
If you want to find writing inspiration, look no further than history, which has been chock full of fascinating characters and dramatic events. If you are writing non-fiction books or essays, you can base your whole work on an actual historical person or event. If you are writing fiction, you can take real people and events as a starting point.
Examples:
Peter Benchley's famous novel Jaws was based on his study of the 1919 Beach Haven shark attacks.
James Ellroy's Black Dahlia was based on the real-life unsolved murder of Elizabeth Short in 1947.
Emma Cline's The Girls was inspired by the Manson murders.
4. Learn to lucid dream
Many great writers have found inspiration in dreams. The trick is to remember your dreams after you wake up. Lucid dreaming can help with this. Keep some means of recording your dreams by your bedside, as the recollection of a dream tends to fade quickly.
Examples:
Perhaps the most famous book to be conceived in a dream, and one of the most interesting in terms of character development, is Robert Louis Stevenson's The Strange Case of Dr. Jekyll and Mr. Hyde.
On a flight to London, Stephen King fell asleep and dreamed the plot of a madwoman who kills her favorite author. He later turned this dream into the novel Misery.
In Dan Chaon's Stay Awake, dreams in general are a major theme.
5. Awaken your sense of smell
It might seem unlikely that smell can inspire your work, but it is, in fact, a powerful stimulant. Don't just go for a walk in the countryside or city and breathe in the smells; instead, think laterally. Try going to a perfume store, or a gym, or even a butcher's shop. Different locations involve various scents that can inspire you in very different ways.
Examples:
Patrick Suskind's Perfume: The Story of a Murderer features the disturbing plot of an "olfactory savant" who is on a bizarre mission to capture the scent of a virgin.
In The Perfume Collector, author Kathleen Tessaro uses 1920s Paris perfumeries as her setting.
M. J. Rose's The Book of Lost Fragrances features a plot based on a perfume, an ancient scent used by none other than Cleopatra.
6. Take up photography
Like paintings, photographs are a wonderful medium for writing inspiration. If you can't go to a photographic exhibition, get a photography book or Google "famous photographs."
Examples:
In Alice Hoffman's In The Museum of Extraordinary Things

,

photography is central to the plot.
Meg Waite Clayton's The Race for Paris follows a press photographer as allied troops try to liberate Paris in 1944.
Whitney Otto's Eight Girls Taking Pictures mixes fact and fiction. The main characters are real female photographers of the last century.
7. Analyze your own life
Your own experiences can be an endless source of inspiration. People are often interested in reading about everyday experiences as well as unusual ones.
Examples:
Nora Ephron is best known for her films Silkwood, When Harry Met Sally, and Sleepless in Seattle. Her one novel, Heartburn, was inspired by her husband cheating on her when she was pregnant.
The central character in Fear and Loathing in Las Vegas by Hunter S. Thompson is a gonzo journalist, obviously inspired by Hunter himself.
The Things They Carried by Tim O'Brien is a collection of short stories based on O'Brien's experiences in the Vietnam War, some of which are fact and some of which are fiction.
Conclusion: Writing inspiration is everywhere
Next time your mind is blank, don't despair. Take a walk around an art gallery or photographic exhibition. Turn on the radio, take a nap and dream, or just think about your own life and start writing.
Whichever method you choose, writing inspiration is sure to come. After all, you are a writer, and writers write.
When you're finished writing, give yourself a much-deserved pat on the back and leave the editing to the professionals. Scribendi's editors can take that raw writing inspiration and help you craft a fully fleshed-out story.
Image source: dinabelenko/elements.envato.com
---
Let Us Help You Craft Your Best Story Yet
---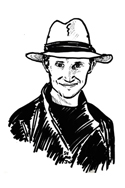 Harry Bingham has been a professional author for more than 20 years and has been published in the United States, the United Kingdom, France, Germany, Spain, Italy, China, and Japan (and lots of other places!) by the three largest publishers in the world. His work has been named on bestseller lists, received critical acclaim, and been adapted for the screen. As head of Jericho Writers (and, previously, the Writers' Workshop), Harry has helped hundreds of people find agents and get published. He'd love it if you were next!