Whether you are an aspiring screenwriter or already in the business, using good script writing software can make your process much more efficient. While some word processors offer script writing templates, these templates do not always provide the right format and may not conform to strict industry guidelines. Using a program specifically tailored to this type of writing can save you the headache of having to manually format your work and ensures that your final product will be professional. There are dozens of script writing programs on the market, and in this article Scribendi reviews the top three script writing software programs and explains how each program benefits script writers.
Final Draft
Aspiring screenwriters may not realize that there are meticulous guidelines a script must follow to be accepted professionally. Final Draft is the industry standard when it comes to script writing software, and it formats your work according to the required style guidelines as you write, offering templates for film, television, stage plays, and comics or graphic novels.
What Final Draft does best is simple—it keeps you writing by eliminating stop-and-start formatting changes. It does this using a return/tab key system that predicts what the author is going to write, based on which keys are pressed, and formats the text accordingly. In addition, Final Draft's SmartType feature remembers common names and terms to predict further what the author may need.
To help an author develop storylines and characters, separate templates allow authors to attach small biographies and summaries to the document. For storylines, Final Draft allows authors to write a script on index cards, which then can be easily dragged and dropped to rearrange story elements. The ScriptNotes feature makes it easy to jot down ideas and feedback while writing.
Organization is another excellent feature of Final Draft. Scene and character tabs simplify moving between content or tracking a character's evolution, and the navigator pane lists each scene, showing details of the current scene and making it easy to move around the document efficiently.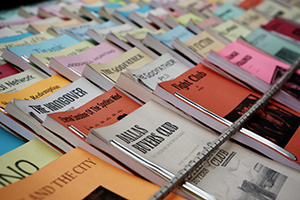 Final Draft goes beyond simple script writing and provides applications and features that are relevant and used throughout the entire production process. The Tagger 2 feature uses tags to create detailed breakdowns of the screenplay for every aspect of production, from props and makeup to camera and location details. Final Draft is also compatible with most other software used in the filmmaking industry because of its wide acceptance as the primary script writing software program.
Where Final Draft falls short is in compatibility across devices (e.g., desktops, tablets, and smartphones), but it is now providing updates that offer all its standard features on iOS and mobile devices.
Celtx
Celtx has become a popular script writing software program for those wanting the features and adaptability of Final Draft at a lower price. Where Celtx surpasses its Final Draft is in its extra organizational features, such as location scouting, storyboarding, and scheduling. Celtx provides templates for all the same types of content as Final Draft, including comic books and graphic novels, but also allows for conversion to different templates during the writing process.
Celtx focuses on the writing process by providing functional indexing tools to organize your thoughts, ideas, scenes, and characters. Plus, there are features such as a full screen mode to minimize distractions and a writing session timer to help schedule your writing time or keep you on track.
Unlike the competition, Celtx has taken full advantage of Internet connectivity and, through a subscription service, uses a cloud-based system to help you integrate your content across devices. The iOS app allows users to view and work on scripts from smartphones and tablets, which then can be accessed from the desktop software. This connectivity also helps sell Celtx's production features, which allow production teams to collaborate and stay organized using scheduling, shot lists, and budget features within the program.
Fade In
If you are looking for a minimal, intuitive option for script writing software, Fade In is an increasingly popular choice among writers. The program was developed by a filmmaker and includes all the best features of other programs, while forgoing options that clutter your workspace. This minimalism extends to the program's aesthetic, which is also a functional presentation: the writing workspace is designed in blacks and grays to ease eyestrain during long writing sessions.
Fade In also does away with proprietary file extensions and saves all work in plain text files, which can be opened and edited in most other word processing or script writing software without losing any formatting. Taking this one step further, Fade In allows you to open and work on files saved with the popular extensions used by other programs. Versions of the program are available for all major operating systems, including mobile.
Fade In provides full industry-standard formatting, offering the ease of use that Final Draft introduced. Templates help writers create content for film, television, and the stage. Organization of your thought processes and ideas is covered through movable index cards and scene lists. Like Celtx, Fade In offers functional production features that let you create scheduling and budgeting breakdowns directly from your script.
Instead of offering a subscription cloud service to access your content across multiple platforms, Fade In allows the same option through Dropbox, which can be accessed from the main workspace.
Hopefully, Scribendi's review of the top three script writing software programs has been helpful. As you can see, there's a program to meet your needs, no matter what you are writing!