Deciding whether you're writing a script for the stage or the screen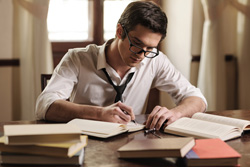 Do you have a fantastic idea for a story, but you're unsure how to flesh out the plot and bring that story to life? Are you having a hard time deciding whether to write a play or a screenplay? Writing scripts for the stage can be very different from writing for the screen. Here we explore some of those differences to help you decide what kind of script you should be writing.
The first thing you need to think about when writing scripts for the stage or the screen is your cast of characters. Are your main characters dramatic, or are they subtle? Dramatic characters are loud, vibrant, or melodramatic. These characters are made for the stage, but on screen they may be overwhelming to the audience. Subtle characters are those characters who have no moments of outward passion, anger, happiness, or distress. These types of characters usually just don't translate to the stage. For example, the title character from the 2007 film Juno has a quiet and sarcastic wit, whereas the character of Algernon in The Importance of Being Earnest is very obviously foolish. Both of these characters succeed in being comedic within their respective mediums. Of course, there are exceptions to this rule. Film actors like Jim Carrey or Will Ferrell use exaggerated antics in their comedies. However, most people don't have this sort of comedy in mind when writing scripts for the screen.
The next factor to take into account when writing scripts is setting. Does your story take place in several different locations, or is it fairly centralized? Would these locations be challenging to depict onstage? Set design for the stage is an art in and of itself. Set designers are excellent at coming up with creative solutions to challenging scenery and settings. However, unless your play makes it to Broadway, the odds are pretty good that the set will always be limited by time and budget constraints. If your story needs to take place in five or more completely separate locations, it belongs on the screen. Also, consider the amount of action you're depicting when writing your script. Do you need a lot of action to communicate your story to the audience? If so, writing a screenplay is the way to go.
Writing scripts and performing scripts are two completely different things. Many theater actors and directors will adjust a script during rehearsals for a play. This allows more flexibility for the characters and flow of the scenes. If you think that writing a script is a process that should continue through performance production, writing for the stage may be your calling. Film actors do not have the rehearsal time to become as intimately familiar with a script as stage actors do; television actors have even less time to work with the script. If you think that writing scripts is the business of only the writer, or if you are very confident that your script will not require many changes, writing for the screen may be best for you.
No matter what kind of script you write, you're going to want someone to look at it before you try your luck at producing your play, film, or television show. The script editors at Scribendi would love to help you out with your plot, dialogue, formatting, and much more.