Written by
Taylor Dennis
---
Introduction
Taylor Dennis, in-house editor at Scribendi and avid lover of all things book, reviews Miriam Toews' All My Puny Sorrows. Although this review discusses the themes of Toews' book, it tries its best to stay away from spoilers. Still, if you want to be sure to experience your own unbiased response to the book, Taylor encourages you to revisit this review of All My Puny Sorrows after you've read Toews' novel.
Content warning: All My Puny Sorrows (and, accordingly, this book review) addresses difficult themes, including depression, mental illness, death, and suicide.
Review
I first came across Miriam Toews' All My Puny Sorrows on the McSweeney's blog, which I follow due to my unwavering devotion to Dave Eggers-esque humor. Every subsequent review I read told me how intelligent and witty the book was. Although I had never before read anything written by Toews, I decided to take a chance on this critically lauded novel. I can't even begin to tell you how glad I am that I took that chance. But I can try . . .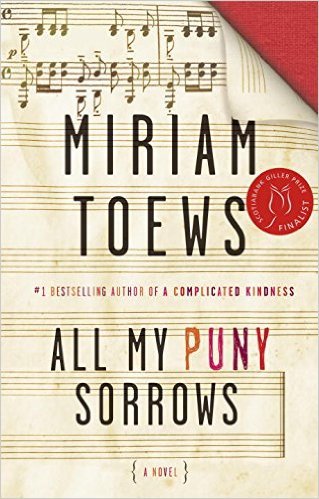 All My Puny Sorrows is semiautobiographical, with many of the aspects of Toews' own life echoed in the characters and events of the novel. Toews was raised in a Mennonite community in Manitoba. Her father had bipolar disorder, and he committed suicide when Toews was in her thirties. Twelve years later, Toews' older sister killed herself. In her novel, Toews tells the story of two sisters, Yoli (short for Yolandi) and Elf (Elfrieda), who, like Toews and her sister, grew up together in a small Mennonite community. Older sister Elf is a famous concert pianist—beautiful, brilliant, and quirky beyond compare. Despite her nearly picture-perfect life, Elf suffers from chronic depression and the suicidal urges that can come with it. Yoli, the protagonist and narrator, is trying desperately to keep her sister alive, all while sorting out her own messy adult life. As Yoli explains, "she wanted to die and I wanted her to live and we were enemies who loved each other." This book is a breathtaking and staggeringly funny account of what it means to let go of the person you love most in the world. Toews' rewriting of her own history captures perfectly the lingering unreality of death, that in-between feeling that occurs when a part of yourself disappears with the whole of someone else.
You may be wondering how a book with such heavy themes could possibly be funny. Toews' writing is humorous because, like her characters, it's real. It addresses Yoli's inner conflict about her own life—she's middle-aged, twice divorced with two children, and unhappy with her career as a writer of mediocre young adult novels—and her obsession with keeping Elf alive, but it also embraces the absurd hilarity of everyday life. In a memorable funeral scene, a little boy starts eating the ashes of the deceased while his mother gives a eulogy. Yoli's wry takeaway: "[J]ust because someone is eating the ashes of your protagonist doesn't mean you stop telling the story." After one of Elf's suicide attempts, Yoli tells Elf that the two of them can "mock life together." In a way, that's exactly what AMPS does: it mocks Toews' real life, sometimes flippantly, yet gracefully manages to find humor in even the most morbid of circumstances. The result is a book that is at once heartbreaking and hysterical.
Yoli recounts Elf's teenage antics, like the time she spray-painted "AMPS" (short for "all my puny sorrows") in various locations around their small town. The line is from a poem by Samuel Coleridge, who, according to teenaged Elf, "would definitely have been [Elf's] boyfriend if she'd been born when she should have been born." The poem itself doesn't come up until much later in the book. Yoli discovers it as an adult, years after her sister's bout of artistic vandalism. The poem, not coincidentally, discusses Coleridge's loss of his own sister:
I, too, a sister had, an only sister—
She loved me dearly, and I doted on her;
To her I pour'd forth all my puny sorrows;
(As a sick patient in a nurse's arms,)
And of the heart those hidden maladies
That e'en from friendship's eye will shrink ashamed.
Yoli's relationship with Elf goes beyond friendship, even beyond love. Yoli is part of Elf, and Elf is part of Yoli. When Elf is determined to die, Yoli feels that her own life is being threatened. After Elf's second suicide attempt, Yoli asks her, "Do you know what you're doing? You're killing people." Elf is horrified by this prospect. In her depressed, suicidal mindset, it is impossible for her to understand how intertwined her life is with the lives of her loved ones. Elf even goes so far as to ask Yoli to be there when she ends her own life, not realizing the impossible nature of her request. Elf begs Yoli to take her to Switzerland, where assisted suicide is legal.
Yoli wrestles with this idea throughout the book. She even begins considering the practical considerations of "killing her sister," all the while trying to find a way to lift Elf's depression to make her want to live again. Yoli is shameless in her desperate attempts to make Elf happy, searching for the magical solution to Elf's despair. "How about I sing?" she offers. "Or I could dance. Like a wave. I could whistle. I could do impersonations. I could stand on my head. Anything!" She knows her attempts are futile, but she can't stop trying to save her sister.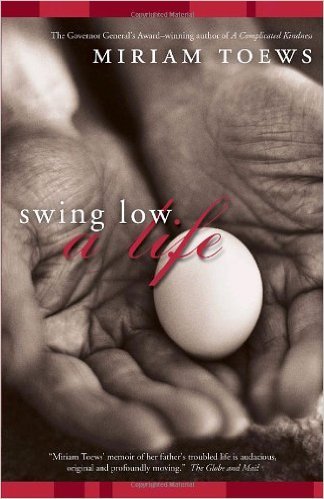 Yoli's relationships—with Elf, with her mother, with her children—are important themes of AMPS. Also engrained in this narrative, however, is a commentary on the inadequacies of the mental healthcare system. This system repeatedly fails Elf, just as it failed Toews' sister and father (an issue addressed in another of Toews' books, Swing Low: A Life). Elf's physical ailments are tended to, but her mental well-being is consistently neglected by the professionals who are supposed to be caring for her. When Yoli leaves Winnipeg to return to her home in Toronto, she regularly calls the hospital where Elf is a patient to make sure Elf is still there: "She's there? She's here. She's there. She's here. You won't let her go? We won't let her go." Despite their reassurances to the contrary, the nurses and doctors release Elf from the hospital. Yoli refuses to forgive them. She feels as if she cannot entrust Elf's care to anyone, and by the end of the novel, we realize that her feelings are justified.
The final pages of AMPS broke my heart. I won't tell you why, because—in case I haven't already made this clear with my abundant praise—I want you to read this book for yourself. I will tell you that when I finished the last page, I closed the book and wept. I wept for Elf, for Yoli, and for Miriam Toews and her family, and I wept for myself. I have my own Elfrieda, the one to whom I have "pour'd forth all my puny sorrows." This book made me reflect on what it would mean to lose my Elf, yet it did this so subtly that I didn't realize until I had reached the end that I had been thinking about her the whole time. I had put myself in Yoli's shoes and read her story as though it were really my own. And while it's true that I connected to Yoli's story more literally than some readers might—I, too, have spent much of my life standing on the sidelines of mental illness, feeling powerless—I still believe that AMPS will hit close to home for almost everyone who reads it.
We all have an Elfrieda in our lives, whether that person is a sister, a brother, a parent, a spouse, or a best friend. All My Puny Sorrows helps put into perspective just how important those people are to us. It reminds us how vital it is to cherish the people we love, because our connections with these people help make us who we are. In a beautiful twist of irony, Coleridge has something to say about this in another of his poems, "On Receiving Account that his Only Sister's Death was Inevitable":
Better to die, than live and not be lov'd!
---
About the Author
Taylor Dennis is a writer and editor based out of Toronto, ON. She's obsessed with dogs, food, serial commas, and the written word, pretty much exactly in that order. You can find more of her work at taylordenniswrites.com, where she publishes a blog about life, health, and all the rest.