Some key elements to remember when pitching your screenplay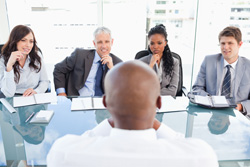 The time has come. That screenplay you've been agonizing over line by line for months is finally finished. You're finally ready to let your screenplay baby out into the world, to change the cinematic landscape for the better. Here are a few things to consider when you're ready to take that next big step.
Title, title, title
One of the most important aspects of any screenplay you plan to pitch is a good title. It is the first thing the reader will see. It has to be original, memorable, and catchy. (You should also make sure it hasn't already been used.)
I make this look good!
Another important thing to consider is having a well-edited, professional-looking script with proper screenplay formatting. You don't want typos, unintentionally funny phrases, or formatting nightmares to distract the reader from the main event. (As Agent J says in Men in Black, "You know what the difference is between you and me? I make this look good.") When emulating Will Smith fails, you can rely on Scribendi's new script editing services to help your script look its best.
An original story treatment
Don't forget to have an original, interesting story treatment that will make readers sit up and take notice. They've heard it all before, so how are you going to make your idea stand out? Who will the audience be, and what's going to make them interested in this story? The production studio may just want to buy your story concept and opt to have someone else write it. Be sure you're prepared for this scenario.
A story treatment is often expressed through the log line, a one- or two-sentence description meant to grab immediate attention, and through a three- to seven-page synopsis that takes the reader through the most important scenes in the screenplay. It's important to keep them hooked and entertained so that they'll keep reading.
The producers
The next step is to research production companies to which you can pitch your screenplay. Make sure they produce movies in your genre and are accepting open submissions. Look for restrictions with regard to the length of your screenplay or any other formatting preferences they may have, and make sure you work within them.
What a poster!
Make a poster for your presentation that represents in one image the film or TV show you're pitching. (This is a challenge, we know, after all the words you've put into it!)
To agent, to agent, to sell a fat pig
Some screenwriters opt to have an agent pitch their ideas to the studio for them. Agents will often not represent a screenwriter unless they have proven their mettle through winning contests, building an online reputation, etc. Many studios will not accept your screenplay unless an agent represents you.
Home again, home again, jiggety-jig (Next stop, Cannes!)
One final point to bear in mind when selling your screenplay is that you should not underestimate the value of screenwriting and script writing contests. They are great places to gain experience and exposure. Some contests even provide valuable feedback for screenplay writers by noting commendable areas and ideas for improvement in the writer's script. Contests are just one of many ways to get screenwriting experience.
Hey, that's mine!
A note of caution: Make sure you protect your work by having a third party verify that it's yours. This check can be performed online by websites that specialize in protecting and verifying copyrights. Make sure any production company or contest you submit to online is legitimate before you pay any entry fees or submit your masterpiece—you don't want all your hard work to be stolen and passed off as someone else's idea just because you didn't do your homework.