Spring is in the air! It's time for Script Frenzy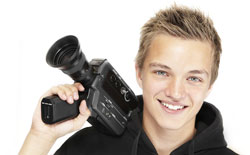 If November belongs to the novelists, April belongs to the script writers. Yes, it's true; with NaNoWriMo (National Novel Writing Month) claiming the blustery end of autumn, Script Frenzy has claimed the budding spring. What better time to begin a project you've always dreamed about? Spring is a time for propagation and this April, it's time to grow a script with Script Frenzy. Script Frenzy is an event, an organization, a community, and most of all, a personal goal. If you've ever wanted to see your story on the stage, TV, silver screen, or even in the pages of a graphic novel or comic, now's the time. Join the frenzy!
The Script Frenzy challenge
It's a simple challenge: write 100 pages of original script material during the month of April. That's 30 days to get the job done. Are you up for it? Remember, it's about the challenge, the attempt itself, and finally doing what you've always wanted to do. You're always a winner when you pursue your dreams.
But this couldn't be for me… could it?
It is! The only thing you need to join the fun is a little desire. Script Frenzy is open to everyone, worldwide. If you have the itch to write, this contest will help you scratch it. At the end of 30 days, you may just have the completed first draft of a screenplay!
Can a great script be written in 30 days?
Anything is possible. But remember, Script Frenzy is about embracing your dreams and it's about accepting that personal challenge. Before you even begin to worry about greatness, you have to write. The dream can't be realized until you get that story of yours on the page. The words always come first! There will be plenty of time to hone it and produce a great story that will come to life on the stage or screen. The first step is completing that first draft. Frenzy will provide you with a certificate and computer icon that will allow you to proclaim your accomplishment to the world.
How can Script Frenzy help me? I'm not sure I can do this by myself…
You're not alone. Script Frenzy is here to help you and best of all, it's free. The challenge is supported by donations from writers just like you, people who've been given the opportunity to meet their dreams—and who've had a blast along the way.
Script Frenzy provides a wonderful framework for pursuing your goals and they have various resources to get you started. Want to bone up on script writing before starting? Want some quick tips on writing, formatting, or the writing process itself? Script Frenzy has a host of articles and a library of recommended books to help you on your way.
What's more, Script Frenzy is all about community. Whether you want a way to find and meet local script writers or connect to script writers around the world, Script Frenzy has you covered. Indeed, their forums are the perfect place to meet others with the same passions and interests, providing an opportunity to share tips, offer encouragement, commiserate, and make friends. Writing a script is much easier (and more fun!) when you have friends pulling for you.
What happens after I finish my script?
Did you reach your goal of 100 pages? Perhaps it took you a few weeks longer than you thought it would. Not quite there, but the end is in sight? That's okay. Congratulations! You've followed your dream and now you have a complete, or almost complete, script. It's probably still a little rough and that's fine—first drafts are supposed to be that way. The hardest part is done. Now, of course, you have to revise and polish. This can be a long and sometimes difficult job. Why not let our script editors put their editorial talents to good use by reviewing your script? Sometimes even the most beautiful of dreams needs a little fine polish!