Screenwriting beyond TV and movies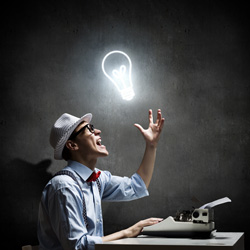 There are many places to use your screenwriting craft other than Hollywood. It helps to start small and work your way up to selling that blockbuster screenplay. Or you may find that you're satisfied with using your screenwriting in the way you choose, where you can be your own boss. You may ask, "Where to begin?" Here are a few ideas for other places to find screenwriting work.
Corporate communications
All companies need corporate communications to facilitate the functions of their businesses, communicate ideas to their employees, and engage in interesting ways with their customers. Communicating these ideas through video is very popular. Screenwriters can be utilized by companies for commercials, in-house training videos, health and safety videos, PSAs, messages from management, and more. Many of these jobs, as we will see with the rest of our ideas, are available for freelancers, so a screenplay writer can pick one up on the side to help pay the bills, develop a portfolio, and make some important business contacts along the way.
Webisodes, anyone? YouTube and beyond
Thanks to the Internet, it has never been easier to show your screenwriting talents to the world. The drawback, though, is that your screenwriting now has to compete with those of the rest of the world. You should not let this dissuade you. In addition to popular video-hosting websites like YouTube, quite a few websites produce videos that have open calls for scripts. Even if you don't make a pile of money from this exchange, it will save you the expense of producing the video yourself, and you can get your name out there. It can be a thrilling experience to see your characters coming to life before your eyes for the first time, and who knows who else might see it? A quick Internet search can highlight these screenplays-wanted websites for you.
No matter where you submit your screenplay, a professionally edited script is key to making it stand out from the rest. Scribendi.com's new script editing service can help you get your script camera-ready for your big debut.
Freelance freedom: You choose what to do
Online freelancing is an important resource for budding screenwriters. Freelancing online allows you to choose projects you want to work on, when you want to work on them. If you are agonizing over your own screenplay, it may help to develop one for someone else, or collaborate and help a fellow screenwriter who is equally stuck. Many screenwriters write scripts cooperatively, and this can be a useful learning experience to take home to your own work. Freelance screenwriting may allow you to work in a genre you never expected to work in, with people who are looking for your expertise. Freelance websites such as Elance.com allow you to search through projects free of charge and pitch to people about projects on which you're interested in working.
Educational videos
From science to history, every student loves educational videos. You could have a video based on your screenplay distributed in schools. Educational publishers often hire freelancers for this work and include these multimedia videos in packages with their textbooks to facilitate off-the-page learning. Many digital-based educational programs also need screenwriters to develop video content for their online learning packages.
Kickstarter
Someone raised over $50,000 on Kickstarter to make potato salad. If you tell the world about your awesome screenplay idea, there are bound to be artists and patrons out there who will chip in to help you get it made. Look on Kickstarter and see what other screenplay pitches are getting attention. Make your sales pitch unique and memorable. Don't forget to consider Scribendi.com's script writing tips, and you're in business!
Small film festivals
Visiting small-town film festivals can allow you to see what other kinds of screenplays people in your area are developing, and to meet with fellow filmmakers. Even if they don't need a screenwriter right now, they may remember you for future projects. If your hometown doesn't have a film festival, you should put out feelers to see if anyone would be interested in working with you to help your town host one.
Big screen or small, screenwriters are an integral part of communicating in the digital age, and you don't have to live in Hollywood to be a part of it. Just remember that, no matter what your screenplay is for, it's always good practice to use proper screenplay formatting in your screenwriting.