Written by
Emily Wilson
---
Why Are Children's Books Important?
The truth is simple. Kids love stories.
With that in mind, we can be thankful that reading and listening to children's books both belong to a rare subset. They're some of the few things kids enjoy that are also good for them.
Numerous studies have linked reading and listening to children's books with positive intellectual and social effects. For example, a ground-breaking study in the Journal of Developmental and Behavioral Pediatrics identified a 1.4 million-word difference between the vocabularies of children whose caretakers read them five books per day and children who are not read to. A separate study in Acta Paediatrica discovered a link between reading to children younger than five and improved brain development, specifically in cognitive areas pertaining to language and learning capabilities. In addition, the seventh edition of Scholastic's Kids & Family Reading Report used extensive surveying to reveal a simple truth: 80% of children and adults cherish story time.
We know that parents don't always have the time or budget to create as much reading time as they'd like to. The world simply doesn't work that way, so we've tried to make things a little easier. Here's a list of 7 awesome online sources of free children's books.
Where to Find Free Children's Books Online
1. Storyline Online: A Little Help from the Stars
If you thought you'd never welcome Betty White, Oprah Winfrey, or Kevin Costner into your home, you're not alone. However, with Storyline Online, you finally can. This awarding-winning website partners with notable celebrities to film videos of them reading children's books, which they then post for free viewing online. Their rapidly expanding cast includes names such as Rami Malek, Michelle Yeoh, and James Earl Jones.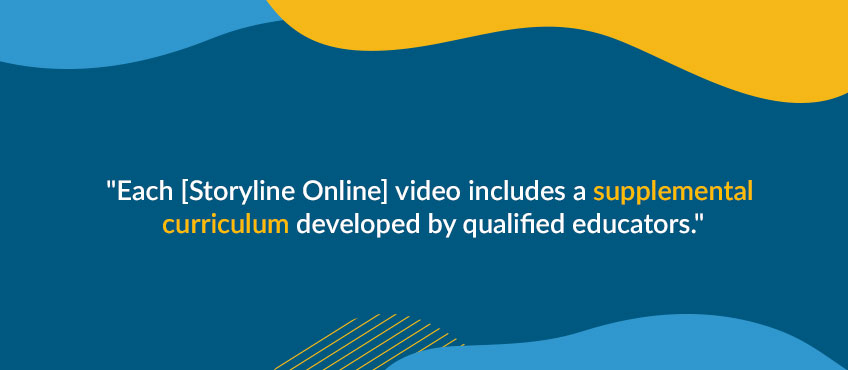 This clever initiative provides far more than simple entertainment. It's a powerful children's literary resource that has won many awards for its efforts. Each video includes a supplemental curriculum developed by qualified educators. Storyline Online currently gets more than 100 million views annually and is widely used in children's hospitals and schools.
2. Mrs. P's Magic Library: Grandma Extraordinaire
Mrs. P's Magic Library is a bastion of wonder. In this series of storytelling videos, the talented Kathy Kinney stars as Mrs. P. She's a lively, grandmotherly figure, who welcomes kids into her library for an old-fashioned storytelling session. Her videos are a good choice for anyone who prefers a recurring face.
As they browse her library, kids can choose which of her videos to watch and, if they wish, follow her storytelling with a read-along option. In general, her content is best suited to children from three to nine years old.
Mrs. P also posts children's activities on her website. These range from vocabulary-building exercises to coloring sheets to bookmark-making how-tos.
A quick tip: check out Mrs. P's catchy song. It's the fastest way to get a handle on her style.
3. The International Children's Digital Library: A Multilingual Haven
Whether you're raising your child in a multilingual environment or you simply want to learn a new language together, the International Children's Digital Library (ICDL) might become one of your favorite resources. The ICDL is a non-profit organization whose mission is to subvert socio-political boundaries and give all children access to the best children's books from their own culture (as well as the best children's books from all cultures around the world).
Currently, the ICDL's collection includes more than 4,000 titles in 59 languages. You can search their titles using a variety of filters, including your favorite cover color and your preferred story type (i.e., realistic or imaginary stories). Once you find your favorites, you can save them to your digital bookshelf for easy re-reading.
4. Children's Books Online: Antique, Multilingual Children's Books
This initiative by the Rosetta Project is a unique opportunity to connect with the titles that your grandparents (and their grandparents) might have enjoyed. Children's Books Online is the self-proclaimed largest collection of illustrated antique children's books online. Furthermore, the website contains titles in several languages, including French, Spanish, Chinese, and German.
Titles are indexed and easily searchable by reading level and language. It can be refreshing to incorporate a few of them into your normal story time.
5. Story Jumper: Want to Create Your Own Story?
In addition to their library of free children's books, Story Jumper gives children the opportunity to create their own stories online. Children (and adults) can choose how many pages they'd like their story to be, what they'd like to type on each page, and where on the page they'd like to place their text. They can design characters, backgrounds, and props and arrange them on the page. Budding authors can record their own narration track (with accompanying sounds) and present their story to someone else.
The majority of Story Jumper's free children's books are also accompanied by voiceovers, background noises, and page-turning animations to help bring their stories to life.
6. Oxford Owl: Your One-Stop Shop for Reading Activities
The team at Oxford University Press has created an invaluable resource. In addition to their free ebook library, Oxford Owl is a goldmine for reading activities and learning materials of all kinds. From wordplay to phonetics lessons to math exercises, it's a great choice when you want to work a mini lesson or two into your story time.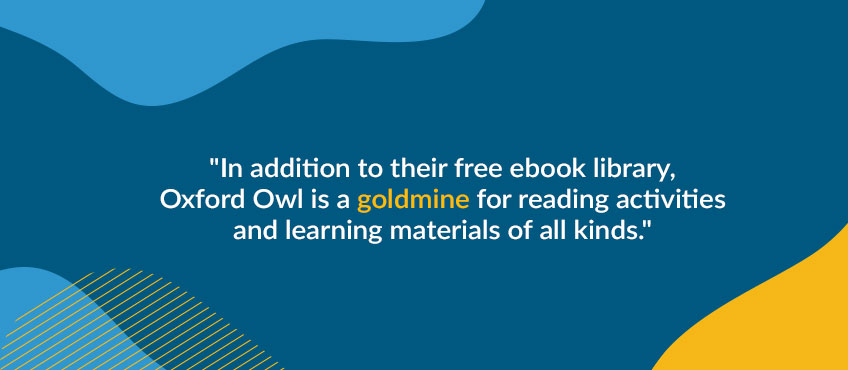 Oxford Owl organizes its books by age, reading level, series, and book type, so it's very easy to find something that suits your needs.
7. Epic: Gamify Storytime
Epic is a classroom favorite. Its library of 40,000 titles is completely free for librarians and elementary school teachers, and it offers a free 30-day trial for the rest of us.
The real magic of Epic is that it gamifies reading. Children can earn awards and badges for their time spent reading, and parents can track their children's progress through each book online. This really helps keep kids motivated.
You can create a personalised library for up to four children online, and there's a boatload of additional content to explore. For example, kids can challenge themselves with the app's quizzes or delve into its many videos, which range from cooking how-tos to intensive math help.
Parting Advice
Now that you know where to find free children's books online, all that's left to do is convince your kid (or kids) to sit still for a second and choose where to start.
We hope you find these resources valuable. The team at Scribendi is united by our love of reading, and we're always delighted to see a similar love take root and grow among our younger generations.
Image source: choreograph/elements.envato.com
---
Writing a Children's Book? Connect with a Professional Editor.
---
About the Author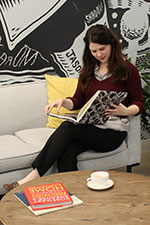 Emily has thrown caution to the wind and pursued a riotous, life-long love affair with English. Over the years, she's worked as an English teacher, an editor, and a copywriter and is now happily employed as Scribendi's junior content marketer. When she's not reading or writing, she's exploring the outdoors.