Scribendi Ranks on PROFIT 500 for Fifth Consecutive Year
Canadian Business unveils 29th annual list of Canada's Fastest-Growing Companies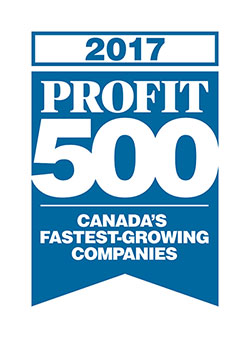 Canadian Business and PROFIT have ranked Scribendi No. 302 on the 29th annual PROFIT 500, the definitive ranking of Canada's Fastest-Growing Companies. Published in the October issue of Maclean's magazine and at CanadianBusiness.com, the PROFIT 500 ranks Canadian businesses by their five-year revenue growth.
This marks Scribendi's fifth consecutive year on the PROFIT 500 ranking, with a five-year revenue growth of 196%.
"It is never easy to earn a spot on the PROFIT 500, but this year's applicant pool was the most competitive yet," says Deborah Aarts, PROFIT 500 program manager. "This year's winners demonstrate the resilience, innovation, and sheer management smarts it takes to build a thriving business today. Canada—and the world—needs more entrepreneurial success stories like these."
"We are honored to be ranked on the PROFIT 500 for the fifth straight year," says Scribendi President Patricia Riopel. "This achievement reflects our team's consistent focus on providing quality services that meet our customers' needs."
The past year has been an exciting one for Scribendi, as 2017 brought its acquisition by Magnum Capital Partners and the launch of a new website. The Scribendi team clearly has no intention of slowing down anytime soon, and achieving a spot on the PROFIT 500 ranking yet again is a great demonstration of Scribendi's continued dedication to providing clients with fast, affordable, and professional editing and proofreading services.