The English language can be hard to learn. There are countless rules, and each rule has its exceptions. What you might not know is that you have an untapped resource available: social media.
How will playing Farmville or Candy Crush Saga help me learn English? you may wonder. Unfortunately, it won't, but social media offer more than virtual farms and crushing candy! Here's how you can use social media to improve your English.
1. Join an English-language learning group.
Facebook is an excellent platform on which to find other learners and work together. Joining an English-language learning group will allow you to lean on each other for support and ask questions to others who are in the process of learning English.
2. Create your own Facebook group.
You can also use Facebook to create your own group. You can invite fellow English learners from your school or class and use the group as a place to post questions and get answers quickly. It's also an ideal place to share helpful tips and articles you come across so that others can benefit from them, too.
3. Follow organizations, companies, and teachers who share language advice.
Facebook and Twitter are both great platforms on which to follow people or companies that post grammar and writing advice that can really help improve your English. Here are a few great pages to follow:
GrammarGirl – Mignon Fogarty, a.k.a. GrammarGirl, offers "quick and dirty tips" on grammar. She posts videos and articles to help English learners. You can follow her on Facebook and Twitter.
English Vocabulary – This is a great page if you are looking to expand your vocabulary. You can follow it on Facebook.
Following people who post grammar and writing advice is great because they are often able to answer questions you didn't even know you had. You can also bookmark their posts for future reference. On Facebook, do this by clicking the arrow at the top right of the post and selecting "Save Link":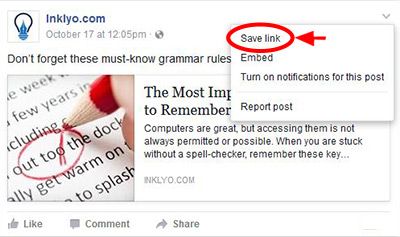 4. Use YouTube to learn pronunciation.
Of course, we can't forget YouTube. There are countless videos and tutorials that explain English grammar and pronunciation. Some are funny, and some are more informational. Either way, watching videos is a great way to improve your English and pick up pronunciation tips. Here are some good YouTube channels to check out:
5. Connect with native English speakers.
If you're looking to improve your English in informal settings, Twitter is an excellent place to engage in conversations. Since there is a limit of 140 characters for every tweet, many people use abbreviations and short forms; this means that, although it won't necessarily teach you perfect formal English, it will introduce you to English slang.
If you want to use tweets to practice your English, use try using the hashtags #Twinglish and #TweetinEng. Many English learners use these to practice their writing skills.
6. Practice pronunciation with friends using Snapchat.
Snapchat is a platform that lends itself to practicing writing and pronunciation. You can send short videos to your friends or pictures with captions. The best part: the videos and pictures delete after 10 seconds, so any mistakes go with them!
When learning any new language, practice is the most important thing. Use your social media platforms to build confidence in your writing skills, and before you know it, you'll be speaking and writing perfect English.
Do you have any papers or documents that need to be grammatically flawless? Check out Scribendi's ESL Editing service and see how we can help you.
Image source: Lee Campbell/Unsplash.com
---
Get Professional English Language Editing
---