Written by Jes D.A.
---
If your business publishes press releases (and it should!), a press release template is an invaluable tool.
From increasing revenue by broadening brand appeal to informing audiences about news and developments, press releases are varied in terms of their purpose. However, their format is quite set, just like formatting for resumes or ebooks. Following the correct press release format is necessary to ensure that businesses and clients alike can find the information they expect to find and in the place they expect to find it.
Whether you're just learning how to format a press release, looking for a press release example, or searching for a way to streamline the press release writing process, a press release template can help you save time and produce content more efficiently. That's why we're offering a downloadable press release template along with this article, which also includes a real press release example.
Let's take a look at the items you should include in your press release in the order they are presented in the template. Be sure to download the press release template so you can follow along!
The Headline
Example: Scribendi Makes the 2019 List of Best Workplaces™ Managed by Women
The headline concisely summarizes the purpose of the press release. It is typically written in the present tense and in title case. Guidelines for headline length are always changing, but it is typically safe to keep your press release headline between 60 and 100 characters, including spaces. The headline should be quite a bit bigger in terms of font size than the body of your press release.
The Subhead
Example: Scribendi is honored to announce its listing on the 2019 List of Best Workplaces™ Managed by Women
The subhead, like the headline, summarizes the main message of the press release but with the opportunity to provide a little more information. It is also typically written in the present tense and in italics but in sentence case rather than title case. In addition, its font is generally larger than the body text but smaller than the headline. Generally, it is best to limit the subhead to one sentence that shares a bit more information than the headline.
The Logo or Related Image
Example: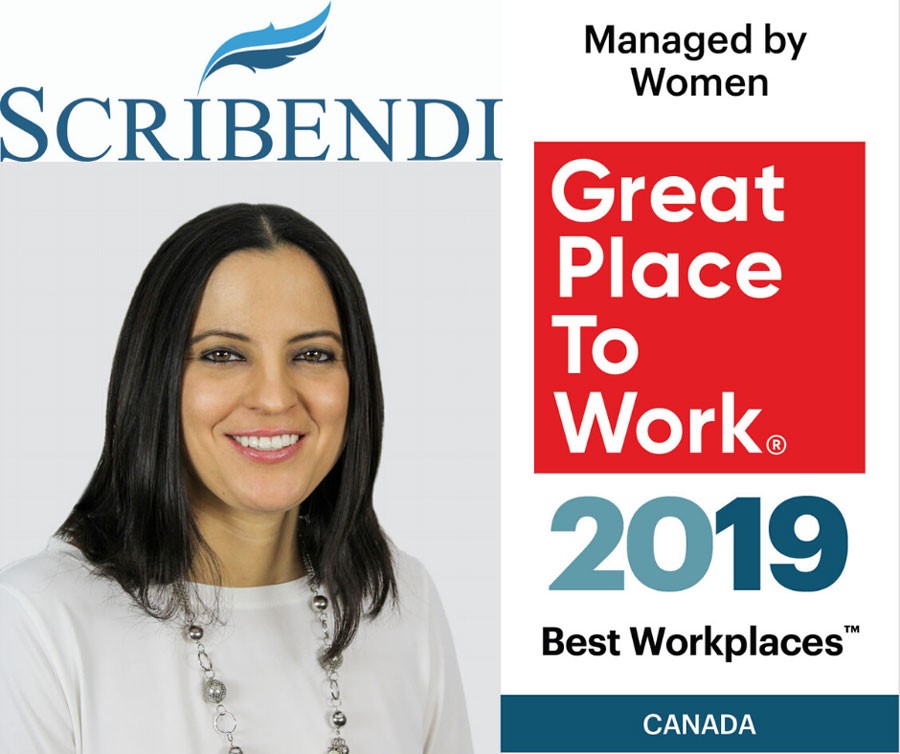 It's a good idea to present your logo—or another image that may best suit the press release topic—early on in the press release. As with all web images, the logo or related image should be high quality and optimized for the web. In general, it is also a good idea to only use one or two images throughout the press release to keep it concise.
The Dateline
Example: Chatham, Ontario, December 11, 2019:
Next, the dateline should be listed, including the place of publication and the release date of the press release, followed by a colon, which will introduce the body of the press release. When drafting a press release, it is best to list the release date rather than the date the press release is being written so that the date will be correct upon publication. Doing this will also ensure that your press release is not released to the public before it should be.
The Press Release Body
Finally, it's the star of the show! The press release body contains the information you want to share with your audience. As a best practice, include at least three paragraphs to properly set up the press release. Generally, press releases are written in the past tense, and their tone is always formal. The whole press release should be written in the third person.
The Introduction
Example: Scribendi is proud to be listed on the 2019 List of Best Workplaces™ Managed by Women. The company received this honor after a thorough and independent analysis conducted by Great Place to Work®.
The first body paragraph represents the introduction to your press release, but this introduction differs from most in that the news you want to share should be clearly stated here. Instead of inciting the reader to continue reading to understand the main point of the text, as in a blog post, for example, a press release introduction should include all the information that is necessary to understand the press release. In addition, the introduction does not exist for you to blatantly promote your business or pitch a product; instead, it should be purely informational, sharing what happened and why people should care. As such, it should be short; one to two sentences are all you should need.
The Body
Example: The 2019 List of Best Workplaces™ Managed by Women is based on direct feedback from employees of the hundreds of organizations that were surveyed by Great Place to Work®. The data has a 90% confidence and a plus or minus 5% margin of error.
According to Great Place to Work®, "To be eligible for this list, organizations must be Great Place to Work Certified™ in the past year and have a female President or CEO."
Scribendi's president, Patricia Riopel, has led the charge in Scribendi's pursuit of sustainable growth strategies. These strategies have extended the company's reach and influence in the editing industry since the beginning of Patricia's leadership in 2017.
The next one to four short paragraph(s) represent the body of your press release and should include one to four sentences each. Of course, you'll need at least one paragraph to fully inform readers about the news you want to share. It is important to keep your press release brief and include only necessary content, so limit this section of your press release to a maximum of four paragraphs. You may wish to communicate your news, some information about your company pertaining to the news, and a powerful quote from a relevant party. Also, be sure to insert hyperlinks and tracking links as necessary.
The Conclusion
Example: "The growth of our business relies on our team. We are glad to have created an inspiring and challenging workplace that promotes collaboration. At Scribendi, talented individuals build careers. At the end of the day, I strive to create an environment where people love to come to work every day. Our whole team believes in our mission: to help people around the world reach their goals through the written word," says Patricia.
The final paragraph of your press release represents the conclusion. It should drive home the main takeaway for readers about the news you have just shared. Like the introduction of the press release, it should be kept short (about one to two sentences, unless you are using a direct quote). Keep in mind that it can be very effective to end with a quote.
The Company Bio
Example: About Great Place to Work®
Great Place to Work® is the global authority on high-trust, high-performance workplace cultures. Conducting the world's largest workplace study, which surveys over 8,000 organizations representing more than 10 million employees in over 50 countries, Great Place to Work® provides a tremendous understanding of effective business cultures and the increasingly complex marketplace. Through proprietary assessment tools and services, Great Place to Work® recognizes the world's Best Workplaces™ in a series of national lists, including those published by The Globe & Mail (Canada) and Fortune magazine (USA). Great Place to Work® provides the benchmarks and expertise needed to create, sustain, and recognize outstanding workplaces, and it supports clients as this accelerating pace of change compels organizations to continuously adapt, innovate, and thrive.
About Scribendi
Scribendi is an ISO 9001:2015-certified online editing and proofreading company dedicated to helping people reach their goals through the written word. With over 480 editors around the globe and thousands of clients, the company has a reach that extends around the world. Scribendi's editors are aided by the company's devotion to the development of new technology that will enhance editors' already formidable editing and proofreading skills by boosting the efficiency and consistency of edits; this technology allows Scribendi to deliver high-quality services every time.
For more information, please visit https://www.scribendi.com and https://www.scribendi.ai.
After what would seem to be the final paragraph of your press release, it is standard to include your company bio under an appropriate heading. If other companies are involved in your news, list their bios as well. There's no need to reinvent the wheel here, so definitely feel free to use a boilerplate bio if you have one. If you need to draft a bio, limit it to about three or four sentences. Include the general information about your company (including its name, of course!) along with its impressive credentials and its mission.
The Contact Information
Example: Scribendi Inc.
405 Riverview Drive, Suite 304
Chatham, ON N7M 0N3
Canada
Finally, include your contact information at the end of your press release so that interested parties can get in touch. This might include a relevant party's name, title, phone number, email address, and postal address. You may also wish to add a link to your company's website.
To see a full press release with all the elements put together, check out our real press release example.
Conclusion
Share your news the right way using Scribendi's free downloadable press release template for your business. Consider copy and pasting our press release template into Word and using this article to customize it to your business. Our article, which includes a real press release example, will help you streamline the press release writing process and allow you to present your announcements to audiences clearly and effectively.
Also, be sure to send your template and any press releases drafted within it for a final proofread. This will help ensure that the news presented is completely error free, which is vital to ensure professionalism.
Image source: BrianAJackson/elements.envato.com
---
Protect Your Company's Reputation
---
About the Author

Jes is a magician and a mechanic; that is to say, she creates pieces of writing from thin air to share as a writer, and she cleans up the rust and grease of other pieces of writing as an editor. She knows that there's always something valuable to be pulled out of a blank page or something shiny to be uncovered in one that needs a little polishing. When Jes isn't conjuring or maintaining sentences, she's devouring them, always hungry for more words.