Written by Chandra Clarke
In the modern world, communication occurs in many different ways. People communicate through speech and in writing, both on paper and online. While each of these forms has specific uses, one of the most important means of communication in the personal, educational, and business worlds is the written word. To be successful, you must be able to translate your thoughts and ideas into words that others can easily understand, which is why it's important to have a firm grasp of the basics of good writing.
To communicate effectively, it's first important to have a clear idea of what you want to say. If necessary, research the subject you are writing about to ensure your work is supported by established facts. It's also useful to work on expanding your vocabulary, as using precise language will more accurately convey your ideas to the reader.
It's important to make sure that your piece of writing is free of errors once it's finished, as too many can prevent the reader from understanding what you have written. Read over your work to ensure that it makes sense and that you have said exactly what you meant to say, editing as necessary so that the piece communicates your ideas accurately. Pay particular attention to commonly misspelled words, and proofread thoroughly to correct minor mistakes you might have previously overlooked.
Whether you're a new or an experienced writer, the following resources will help you hone your writing skills and become adept at conveying your thoughts to others in writing.
Research
Vocabulary
Spelling
Proofreading
---
About the Author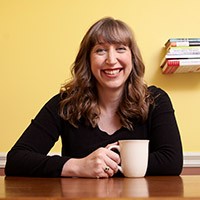 Chandra is the founder and former president of Scribendi. She holds a BA in English and an MSc in Space Exploration Studies. Her lifelong devotion to the written word started when she joined The Chatham Daily News as a regional stringer. She then worked as a reporter/photographer for a large chain of weeklies before becoming the managing editor of an independent paper, a post she held for two years before striking out on her own. She pens a weekly humor column and has written dozens of short stories, newspaper articles, and magazine articles. She is an enthusiastic supporter of space exploration and scientific research, and is the author of Be the Change: Saving the World with Citizen Science.
---
Image source: Bench Accounting/Unsplash.com