A well-written novel deserves the attention of an experienced novel editor.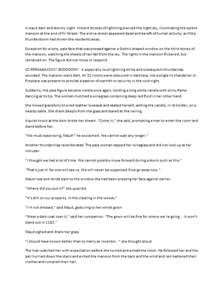 Before Editing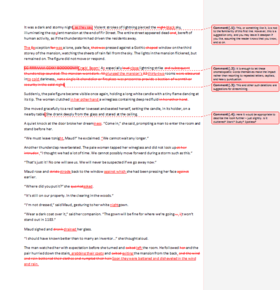 After Editing
(Click to enlarge)
You've just finished the first draft of your novel. Congratulations! Writing a novel is an amazing accomplishment. However, finishing the first draft is not the end of the road. It's time to have that first draft edited. You may be considering having a parent or friend review your work, but before you do that, ask yourself this: Will this person be able to perform a useful, honest, and objective review of my work?
You needed the encouragement of your mother and your friend when you got stuck on chapter seven. You needed their support when you killed off your favorite character. But now that it's time to have your manuscript edited, you don't need personal support anymore. You need the professional eye of a novel editor.
A novel editor from Scribendi will remove grammatical errors and typos from your work, but that's not all. Your editor will also help you make sure your story and characters are consistent, your dialogue is smooth, and the tone of your writing flows. Your Scribendi novel editor will not hesitate to tell you the strengths—and maybe the weaknesses—of your writing.
In short, a novel editor from Scribendi knows a bit more about writing than your mom does.
Scribendi's free sample edit offers you the chance to let one of our editors review 1,000 words of your work for free. If you've already had a sample completed or are just ready to get started, scroll down for your free quote, and find your novel editor today!
Get an Instant Quote and Place Your Order