Written by Chandra Clarke
Applying to colleges can be a confusing process because the application package typically includes many different parts. A college admissions essay is a vital component of this package, and most colleges require one. To write a successful essay, the savvy applicant must brainstorm and plan the document carefully. The following tips will guide you through the steps you must take to write a great admissions essay:
Allow enough time to write and revise the essay.
Research the school so you can include specific details about it in the essay.
Review the format requirements and guidelines, and choose a relevant prompt, if applicable.
Decide what topics you want to cover, and organize your information.
Write an outline and a rough draft before the final copy of the essay.
Avoid potentially controversial subjects.
Inject personality and creativity into the essay.
Prove all assertions with supporting evidence.
Write about yourself positively.
Verify all facts for accuracy.
Include specific examples of challenges you have overcome.
Keep the essay simple and focused.
Observe the rules of grammar carefully.
Spend time editing and proofreading the essay to ensure that it is correct and consistent.
Write a unique admissions essay for each college application you complete.
The following resources from a number of authoritative university websites expand on these tips and give you detailed insight into what schools are looking for when they review college admissions essays.
---
About the Author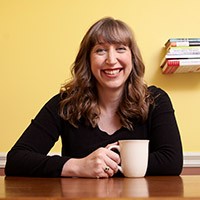 Chandra is the founder and former president of Scribendi. She holds a BA in English and an MSc in Space Exploration Studies. Her lifelong devotion to the written word started when she joined The Chatham Daily News as a regional stringer. She then worked as a reporter/photographer for a large chain of weeklies before becoming the managing editor of an independent paper, a post she held for two years before striking out on her own. She pens a weekly humor column and has written dozens of short stories, newspaper articles, and magazine articles. She is an enthusiastic supporter of space exploration and scientific research, and is the author of Be the Change: Saving the World with Citizen Science.
---
Image source: igor stevanovic/BigStockPhoto.com