Written by Chandra Clarke
Regardless of your subject or audience, when you write, you need to arrange the text so readers can understand and follow your ideas. The sentences and paragraphs that make up any written document will often contain different ideas and subtopics. The transitions between these ideas help readers digest information successfully. A transition can be a word, a group of words, or a complete sentence, and the effective use of transitions alerts readers to shifts in ideas so they can better understand the information presented. After writing, spend time editing to ensure the correct use of transitions throughout a document.
What Are Transitions?
Transitions are words or phrases that help readers recognize connections between ideas. As you write, use transition words to help you organize information effectively. Transitions can help signal connections between a main idea and supporting ideas. They can also signify comparisons or contrasts, and transition words are an excellent way to introduce and identify related concepts. Use transitions within and between paragraphs, but be careful not to overuse transitional words as this can be tedious for readers. It is often helpful to start by writing an outline of your essay to gain a clearer picture of how your various ideas are related; then, you can select transitions accordingly.
Types and Examples of Transitions
Sentence transitions help readers understand how different sentences relate or connect. Some sentences can stand alone without transitions. However, other sentences need to flow logically into the proceeding sentences, and this necessitates specific transition words or phrases. Sentence transitions should occur as additional ideas or directions arise in a piece of writing.
Paragraph transitions also help connect ideas and maintain the logical flow of a document. These transitions occur at the beginning of a new paragraph to introduce an idea or direction. The purpose of the paragraph transition is to help readers understand how the new paragraph connects to preceding paragraphs. When using paragraph transitions, choose words carefully to ensure they are correct. A single word is not effective as a paragraph transition because it does not provide enough information. Therefore, you should always use either a transitional phrase or sentence at the beginning of a new paragraph. Try not to use a subordinating conjunction such as although, since, or while as a paragraph transition.
Addition or Agreement Transitions
These types of transitions are effective for reinforcing ideas, adding information, and showing agreement with other information. Examples of these transitions include the following words and phrases:
In addition
By the same token
Equally
Moreover
Similarly
As well as
Furthermore
Contradiction or Opposition
Words and phrases like those in the list below indicate to readers a different perspective or contradictory ideas.
In contrast
In spite of
In reality
But
Although
Instead
Despite
Nevertheless
Regardless
Cause or Condition
You can communicate conditions or causes for new ideas or events with cause or condition transitions. Examples include the following:
In the event that
For the purpose of
In order to
Because of
While
Provided that
Due to
Examples or Emphasis
Use examples to emphasize or support ideas. Transitions like the following can highlight information for the reader's attention:
In other words
For this reason
Notably
Chiefly
Especially
In general
For example
To emphasize
To enumerate
Effect or Consequence
Explain the effects and results of events or ideas with this type of transition. The word choice shows the reader something that happened afterward, which would be an effect, or something that happened before, which would be a cause. Examples of these transitions include the following:
For
Because
Accordingly
Consequently
Hence
Time or Sequence
To define time in a document, use chronological transitions like these:
From time to time
In the meantime
First, second, etc.
Later
Before
Henceforth
During
By the time
Until now
Occasionally
Location or Place
Use transitions to restrict or qualify location or place in writing. Some of these transitions also overlap into time and sequence transitions. Here are a few examples:
In the middle
In the background
Near
Above
Under
Further
Between
Alongside
Beneath
Across
Conclusion or Summary
Wrap up an idea or a subject with conclusion or summary transitions. Words such as the following often indicate a restatement of ideas:
As shown above
For the most part
In summary
In conclusion
To sum up
Ultimately
Additional Resources
---
About the Author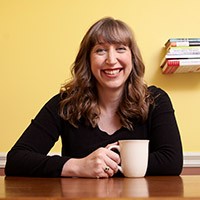 Chandra is the founder and former president of Scribendi. She holds a BA in English and an MSc in Space Exploration Studies. Her lifelong devotion to the written word started when she joined The Chatham Daily News as a regional stringer. She then worked as a reporter/photographer for a large chain of weeklies before becoming the managing editor of an independent paper, a post she held for two years before striking out on her own. She pens a weekly humor column and has written dozens of short stories, newspaper articles, and magazine articles. She is an enthusiastic supporter of space exploration and scientific research, and is the author of Be the Change: Saving the World with Citizen Science.
---
Image source: pellinni/BigStockPhoto.com