Written by Scribendi
---
Students, academics, authors, and researchers generally have to do a lot of online research. With so many different databases, online journals, and websites, it can be overwhelming to manage and organize so many references—especially if you're doing it manually.
Did you know that there are programs that can actually manage and keep track of your references for you? If not, then you are in for a treat!
Many reference management software programs make the process of managing your references nearly effortless. Here are the top 6, as determined by Scribendi's research.
Up Close: The 6 Best Reference Management Software Programs
Managing your references online doesn't have to be hard, especially when citation programs exist that let you easily organize and cite your references.
Reference managers take the effort out of storing references, categorizing them, and including the right ones in your work.
Without reference managers, it's too easy to lose an important source, or worse, cite it incorrectly.
Below, we're expanding on the top reference management software programs out there, including:
Mendeley

Flowcite

RefWorks

Zotero

EndNote

Citationsy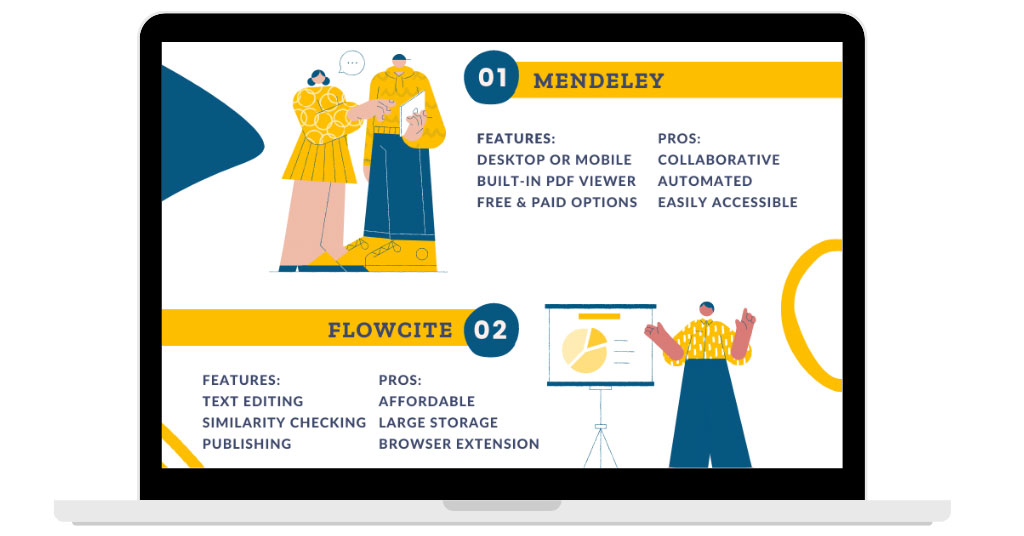 ---
1. Mendeley
If you're in a technical or scientific field, Mendeley is an excellent option for you. This reference management software allows users to generate citations and bibliographies in Microsoft Word, LibreOffice, and LaTeX.
Mendeley is great for collaborative work because it allows you to connect with colleagues and share your papers, notes, and annotations. It can be used on your computer via the web or through your iPhone or iPad, which makes it easy to do your work wherever you go.
Mendeley Review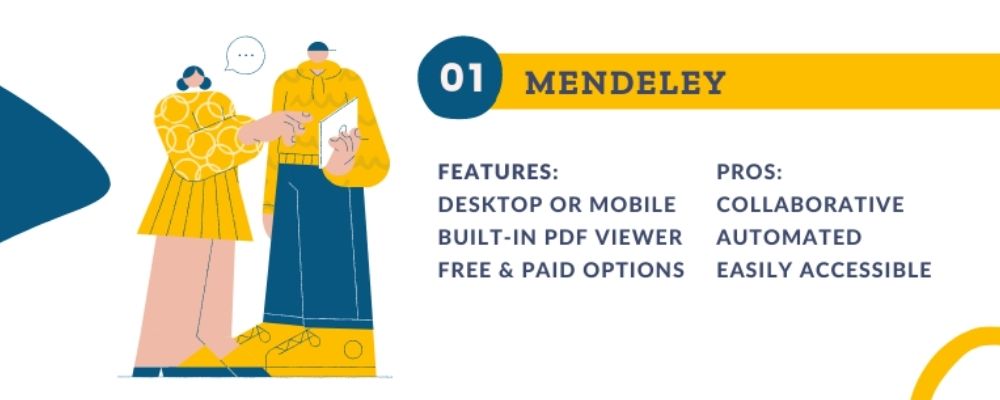 Mendeley is especially useful for gathering data from PDFs you find in your research process. It automatically extracts metadata and adds it to your library entry. The software also has a built-in PDF viewer for easy reading.
With both free and paid options, Mendeley is one of the best reference managers and is easily accessible across all devices. For easy organization, it gives you the option of categorizing sources as recently read or recently added.
As an additional way to keep all of your notes from sources on a single platform, Mendeley has its own proprietary system for annotating PDFs. This means you don't need to leave the platform to take notes as you go!
Endnote versus Mendeley
If you're like most researchers and authors, you might be considering Endnote versus Mendeley. If so, here are a few things that might sway your decision.
Mendeley offers the bulk of its platform features for free. It gives you the option to sync your references on all of your devices, and it makes reference categorization simple.
EndNote, on the other hand, is a pricier Mendeley alternative. The majority of its features can only be accessed with a paid subscription. However, EndNote is more of a complete tool, with a heavy focus on academic journals. You can search databases, such as PubMed, right inside the tool, and it makes citation formatting a breeze with its Cite While You Write integration.
Both platforms have great features; the choice just depends on how much you're able to spend per month and your specific discipline.
2. Flowcite
Flowcite helps researchers manage every aspect of academic writing, including research, reference management, collaborative writing, annotating, editing, and publishing. It brings together all of the most requested services for creating a research paper from start to finish.
Besides free core features, such as a knowledge library of almost 25 million sources, a reference manager, LaTeX and rich text editors, and a collaborative PDF viewer, Flowcite offers a number of top-notch services for editing and proofreading (by Scribendi!), similarity checking, and publishing from leading service providers.
Get Academic Proofreading by Scribendi to get your work ready for journal publication.
Flowcite Review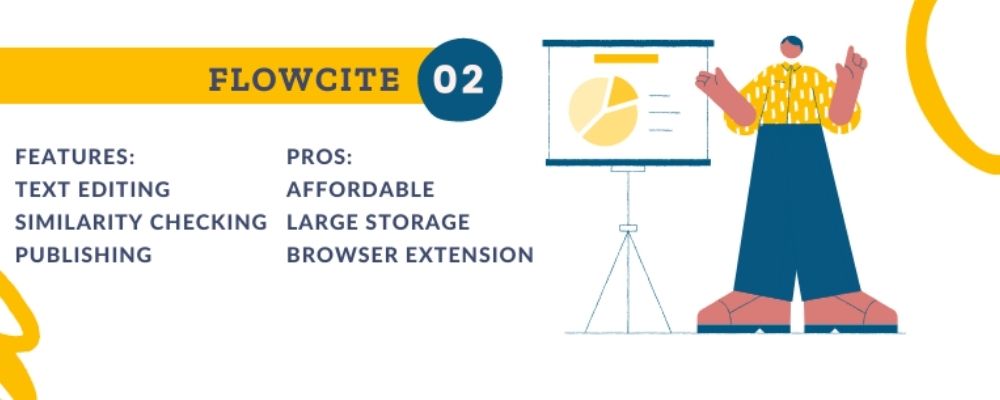 Like other reference management tools, Flowcite has free and paid options. Their free option gives you 3 GB of storage and collaboration features for up to three people. However, at $9 a month, Flowcite's paid subscription isn't too steep.
With their paid option, you can enjoy the following features:
A PDF viewer in which you can collaborate with colleagues on annotations

The ability to access free journal articles within the platform

Up to 30 GB of storage for important references

Collaboration features for up to 10 people

The ability to purchase or rent e-books from Flowcite's online bookstore

A browser extension for saving references on the go
If you're searching for an all-in-one platform to help you not only research your paper but also write, format, and spell-check it, Flowcite is your best bet.
3. RefWorks
RefWorks is an exceptional reference management software program. Although it is not free, many colleges and universities have subscriptions to RefWorks, which means that you may already have it available to you through your school. Score!
RefWorks is great because it allows users to generate and format bibliographies and manuscripts in hundreds of output styles, including some of the most common (e.g., APA, MLA, or Chicago). It also allows users to manage more than just bibliographical data, which is why it's great for academics and researchers alike.
Refworks Review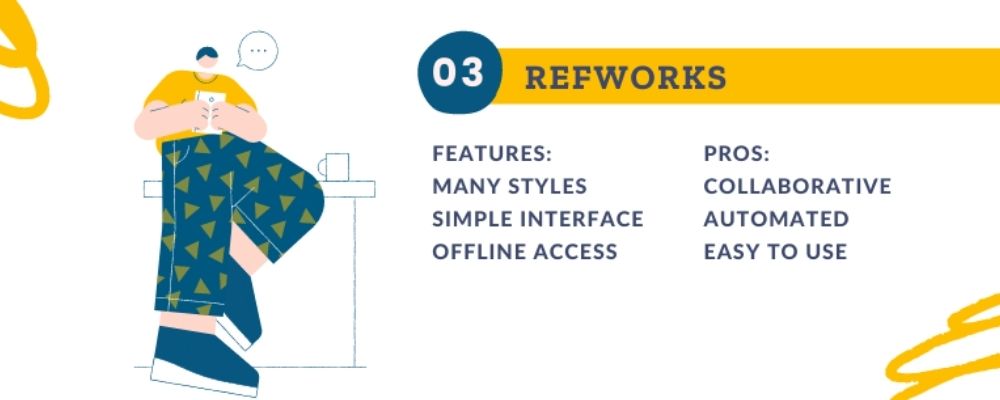 RefWorks is an ideal reference manager for students and undergraduates, given that most universities subscribe to it.
With RefWorks, you can create bibliographies in multiple formats, and it has a simple user interface, which can be either a benefit or a disadvantage, depending on the complexity of your research needs.
It also has helpful features, such as reference organization, a built-in PDF reader, and the ability to sync your data to Dropbox so you can access it offline.
Mendeley versus Refworks
Both RefWorks and Mendeley have great options for saving and organizing your references, but choosing between them will depend on your specific needs and situation.
Mendeley is a more user-friendly and stable platform. Many enjoy the tool's robust collaboration features and the ability to view full-text PDFs from within it, making it a top contender in the reference and bibliography software space.
If your university uses RefWorks, they most likely have a subscription that allows you to cite sources, record data from articles or books, and share your database with multiple people at no cost.
4. Zotero
Zotero is both free and open source, which means that you don't have to pay for it and that its design is publicly accessible. Zotero is a great choice for a reference manager, especially for students, because it runs as both a web service and an offline service on your personal device (laptop, iPad, cell phone, etc.).
Zotero not only stores and formats your bibliographic information but also allows you to organize, tag, and search this information. It automatically and seamlessly extracts information from books, journal articles, and other online sources, making the process of creating a reference list effortless.
Zotero Review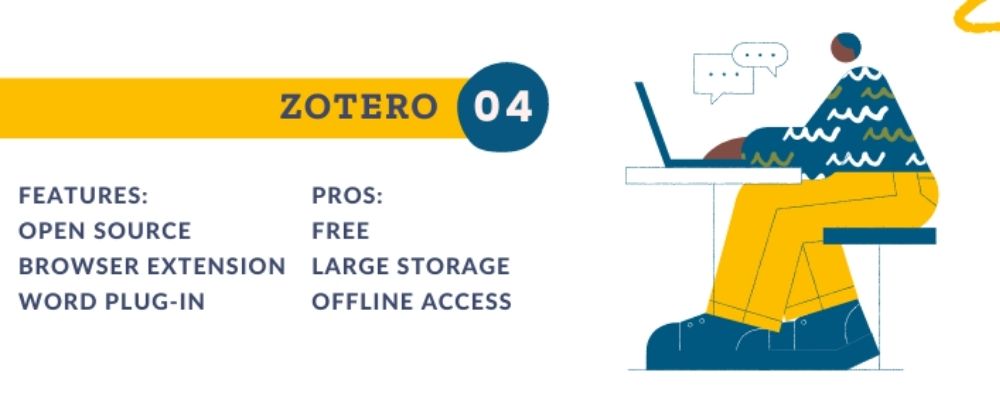 Zotero is an open-source reference manager with free and paid options that allow you to save web-based sources. With its browser extension (Connector), you can easily save and organize the sources you find while researching.
As one of the more popular reference managers, Zotero offers up to 300 MB of free file storage and has a clean and minimal interface for reference organization. Its Microsoft Word plug-in allows for easy citation formatting, and its annotation feature gives you the option to add notes to your research from within the platform.
Zotero versus Mendeley
When considering Zotero versus Mendeley, it's easy to see that both reference managers give you the ability to organize your references effectively.
One benefit of Mendeley is that it offers more free cloud storage than other platforms—up to 2 GB. This gives you space for about 700–800 articles. If you plan to collect a lot of references, this might be the better option.
However, Zotero is known to be better for non-journal articles and for having a dedicated user community for support, given that it is an open-source project.
Both platforms allow you to save citations while you browse and have free plug-ins for Word and LibreOffice for creating in-text citations, footnotes, and bibliographies.
5. EndNote
EndNote is great if you're collaborating on a research paper. It lets you share sources with up to 14 colleagues anywhere in the world, so it's definitely the top choice for collaborations.
One of the highlights of this reference manager is that it includes reference types such as interviews, podcasts, conference papers, and press releases. It also lets you add citations to Microsoft PowerPoint slides, which is especially helpful if you're creating a presentation with a group.
EndNote has a huge catalog of format options with over 6,000 reference styles, so regardless of your discipline, you're bound to find one that fits your needs. Although EndNote isn't free, it is certainly high quality.
EndNote Review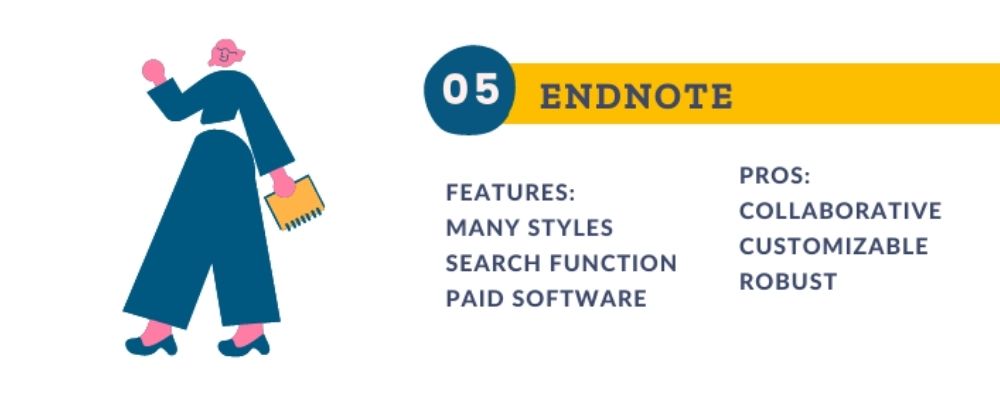 EndNote has a reputation for being one of the most complete reference manager software packages in the industry. It's been around a lot longer than most other similar tools and contains robust features for researchers and students in its paid version ($299, one-time purchase).
Within EndNote, you can create rules that let you organize your references and effectively format citations in multiple areas within your text using its Cite While You Write integration.
The latest version of EndNote also makes collaboration easier, offering support for up to 200 users to share references. Additionally, EndNote has a search function that makes it easy to search databases, such as PubMed, without leaving the platform.
Endnote versus Zotero
Depending on the kind of citation manager software you need, both EndNote and Zotero offer helpful features for researchers and students.
While Zotero offers more features for free and has one of the best support communities, EndNote is a pricier but more robust option. However, both tools are effective at helping you to organize and categorize your references.
Both tools allow you to download references easily from a PubMed search, find and remove duplicate citations, and insert citations that are automatically formatted to your style preference into your text.
Additionally, Zotero seems to be a better fit for non-journal articles, while EndNote is often the best choice for STEM disciplines.
6. Citationsy
Citationsy is a great choice because it's so adaptable. You can access it as a page within your browser or download it as a Chrome extension or mobile app, which means that you can access your library from any device with an internet connection.
Like the other reference managers, it automatically extracts citation details so that you don't have to type them in yourself. You can even use its mobile app to cite your books by scanning their barcodes.
Citationsy Review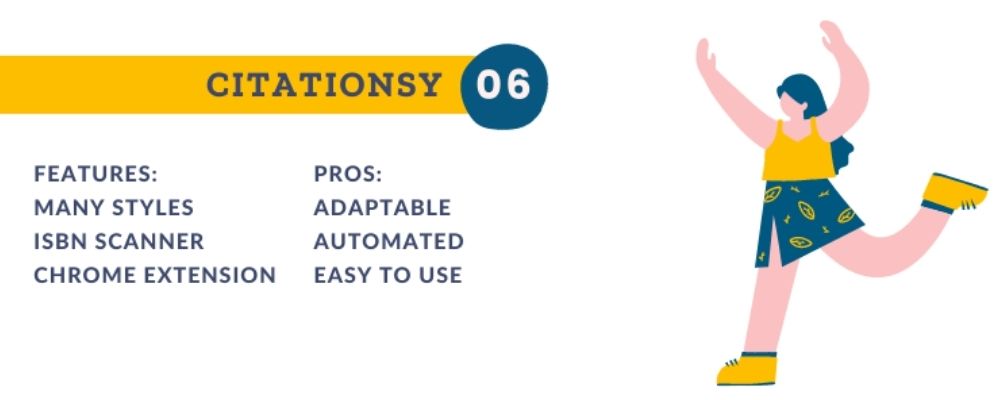 With its intuitive and easy-to-use user interface, Citationsy is a welcoming reference manager for students and professionals alike.
It boasts 300,000+ users and has features that help you add bibliographic references from your phone and scan physical books to save as future references. Currently, Citationsy supports over 8,000 citation formats, and references can be exported in BibTeX/LaTeX format.
In terms of price, Citationsy has a free 3-day trial with a $4.99/month subscription for students and a $9.99/month subscription for non-students.
The one thing to keep in mind with Citationsy is that some of its features are more limited in comparison with EndNote and Mendeley, so be sure it has exactly what you're looking for!
Conclusion
Do you see the common trend with these reference management software programs? They make creating a bibliography easy! Be sure to take advantage of the features offered by these programs to make your research just a little bit easier.
If you would rather have an expert editor format your references correctly according to any style guide, check out Scribendi's fast, affordable, and professional academic proofreading services.
---
1-Page Guide to Reference Management Software
---
FAQs
What Is a Reference Manager?
A reference manager, also called a citation manager, is a tool that makes it easy to collect and organize references during the research process. It allows you to store references from your browser so you do not overlook any references you've used. Many reference managers have plug-ins that make it easy to cite sources within your paper, usually with a single click.
Which Is the Best Citation Manager?
The best citation manager will depend on your needs as a student, researcher, or author. You'll need to ask: Do I want a paid or a free option? How much storage do I need?
If you're looking for free options with the flexibility to be used from anywhere, try experimenting with EndNote Basic, Zotero, or Mendeley. However, if your university pays for your citation manager, RefWorks might be a better fit.
In terms of storage, Mendeley wins the race for large free storage options, but you may want to experiment with a few different tools to see what works for you.
How Long Does a Mendeley Data Review Take?
Each shared dataset in Mendeley Data can take 1–2 business days to approve from the time of submission to be sure it complies with Mendeley's dataset requirements. You should receive an email informing you whether your dataset has been accepted.
To ensure dataset acceptance, double-check that your datasets are scientific in nature, have not already been published, and do not contain sensitive or copyrighted content.
---
About the Author

Scribendi's in-house editors work with writers from all over the globe to perfect their writing. They know that no piece of writing is complete without a professional edit, and they love to see a good piece of writing turn into a great one after the editing process. Scribendi's in-house editors are unrivaled in both experience and education, having collectively edited millions of words and obtained nearly 20 degrees collectively. They love consuming caffeinated beverages, reading books of various genres, and relaxing in quiet, dimly lit spaces.