Get better engagement with social media editing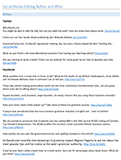 Before Editing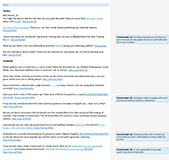 After Editing
(Click to enlarge)
Using social media and creating an engaged online community are a vital part of growing a successful online business. Growing your social network requires dedicating time and energy to consistently updating and engaging your audience, which means writing content quickly and on the fly. Mistakes happen, and they go viral quickly. Let us edit your Facebook, Twitter, Google+, and other social networking content so you can focus on more strategic operations instead of having to do damage control when mistakes go viral.
Scribendi.com is a highly experienced North American enterprise that employs skilled native English-speaking editors to correct the subtleties of the English usage in your social media presentations. We understand how effective writing leads to successful search results, and we'll help bring that success to your business.
A social media editor not only has to be savvy with language, but also adept at highlighting the attributes of a page that will appeal to the average social media user. Social media engagement needs to operate on many different levels. Don't leave your image to chance. Use the social media editing services of Scribendi.com to put you ahead in the social media race.
Getting started is quite easy. Just generate a free, no-obligation quote below and order today!
Get an Instant Quote and Place Your Order