A resume edit can help you land the perfect job.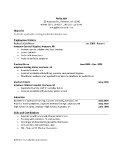 Before Editing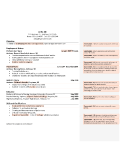 After Editing
(Click to enlarge)
Finding the perfect job can be a challenge, but polishing your resume doesn't have to be. With a thorough resume edit by one of the expert editors at Scribendi, you and your resume will be ready to take on your job-hunting mission with style and poise.
Scribendi's editors will edit your resume with the employer in mind. A good resume edit takes into consideration not just spelling and grammar but also other conventions specific to resumes, like how to word job descriptions and executive summaries.
When it comes to finding the perfect job, your experience should speak for you. Don't let errors in your resume stop you from landing the job you want and deserve. Instead, entrust your work with one of Scribendi's expert English editors. With a resume edit by a member of our team, nothing will stop you from achieving your career goals.
Get an Instant Quote and Place Your Order