Get your website noticed with SEO editing services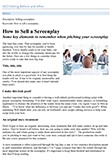 Before Editing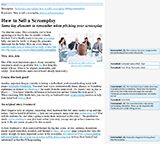 After Editing
(Click to enlarge)
Understanding search engine optimization (SEO) and search engine marketing (SEM) is half the battle when building a website or blog. The other half involves grammar, spelling, and formatting. You don't want to mar your web presentation with poor English, and you need your site to rank well in search engine results pages. These two factors make SEO editing for the web a highly specialized service requiring staff with hard-to-find skills.
If you are a small business, you may be developing a website to increase your sales, but a site that is not optimized for search engines will sit on the Internet unnoticed. You may not be able to afford to keep an SEO editor or marketing specialist on the payroll, but that's where outsourcing your SEO editing comes in. Our SEO editors understand how to improve your website's visibility, and they will apply that expertise to your website's content as they revise your site.
We'll look for things like keyword consistency and density and ensure you are using your keywords effectively. Our SEO editors will review your content titles and heading structure to ensure it follows SEO best practices. We'll look for SEO elements like anchor text and meta data to ensure your web copy is effective, and we'll also make note of any elements of your Web copy that are missing.
Within the field of web content lie several format specializations. Static pages, service pages, articles, blogs, and white papers all require different treatments with a different tone to appeal to different audiences. Scribendi.com's SEO editing service takes these subtleties into account and knows how to edit your optimized web copy with SEO in mind. We fit seamlessly into your team and processes, so there's no ramp-up time. This provides you with the SEO editing services that your website needs to get noticed on the Internet.
Getting started is quite easy. Just generate a free, no-obligation quote below and order today!