Some Sites We've Found Useful over the Years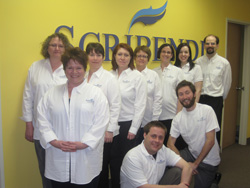 Many of our editors are also writers. We aren't just passionate about copyediting; we're passionate about all aspects of writing. We spend time reading about the latest style guide updates, browsing the web for hilarious blogs about grammar mishaps or English idioms, and seeking out interesting novel, screenplay, and poetry contests around the globe. Over the years, we've compiled a list of some websites we have found useful. Enjoy!
Our writing directory:
---
Writing Advice and Blogs
Inklyo.com Writing Resources
Inklyo.com helps writers in all fields improve their skills. The site's resources include courses, ebooks, articles, and more. If you need advice about writing, this is the place to go!
How to Write a Blog
How to Write a Blog explains how to write a blog from beginning to end in seven easy steps. It is a useful guide for new bloggers, moderately experienced bloggers, or anyone who is interested in how to start a blog for individual or commercial use.
How to Write an Essay in Five Easy Steps

How to Write an Essay in Five Easy Steps. This simple guide to getting better grades on your next essay can be used by high school, college, or university students.
How to Write a Letter
How to Write a Letter will help you write just about any letter you need quickly and effectively. Featuring step-by-step instructions, easy-to-use examples, and five key words and five key phrases for any occasion, this guide will make you feel confident about your letter-writing skills.
Effective Business Communication
Whether it's a misunderstanding with your co-worker or a blunder with your boss, failure to communicate in the workplace can spell disaster for your career. Drawing on the advice of top business professionals like Jack Welch and Sheryl Sandberg, Effective Business Communication discusses the five fundamentals of good communication that can offset the common causes of failure.
Scribendi.com
Our writing advice section features hundreds of articles about writing, editing, proofreading, and grammar. We also have numerous how-to guides, explaining how to write everything from a complaint letter to a dissertation.
A.Word.A.Day
A.Word.A.Day, from Wordsmith.org, is a worldwide online community of more than 800,000 linguaphiles in at least 200 countries.
---
Online Training Programs
GrammarCamp
GrammarCamp is a comprehensive, award-winning online English grammar course that helps individuals and businesses worldwide write more clearly and concisely.
How to Write an Essay in 5 Easy Steps Online Course
Use our online essay writing course to boost your grades, or work with us to offer this course to your entire classroom. This course is for students who are not getting the grades they want on their academic essays and need an extra hand from the pros. Taking this course will give you the tips you need to write your next college essay quickly, while still ensuring the quality is there to get the best grade possible.
EditingCamp
EditingCamp is a comprehensive online editing course complete with multimedia content, interactive quizzes, and tests. It helps aspiring editors, those interested in editing, and experienced editors alike learn how to edit any document with confidence.
ProofreadingCamp
ProofreadingCamp is a comprehensive online proofreading course for anyone interested in improving their proofreading skills.
---
Writing Resources and Services
Clive Pyne Book Indexing Services
A book index can make all the difference between a good book and a very good book. If you have written a non-fiction book and are looking for a professional indexer, contact Clive. He specializes in scholarly, trade non-fiction, and reference books covering a wide range of subjects. He will provide you with on-time service that meets all your specifications, and his rates are definitely competitive.
---
Writing Contests
National Novel Writing Month (NaNoWriMo)
National Novel Writing Month takes place every November. It is the ambitious—albeit fun—goal of writing an entire novel in one month.
Bridport Prize
The Bridport Prize is an international creative writing competition for poetry, short stories, and flash fiction. It is one of the top prizes of its kind in terms of both prestige and prize money, and many authors who have won the prize have gone on to be very successful.
---
Education
TESOL-direct
TESOL-direct provides TESOL courses by flexible distance learning, enabling you to qualify to teach English to speakers of other languages from anywhere in the world while working at your own pace.
---
Career Resources
Alec
Alec provides free CV and resume writing, interview questions, and job search tips. They offer free advice about how to improve your CV/resume, find a job, and handle interviews. This website also provides samples of CVs/resumes and cover letters. There is also psychometric testing, a recruitment agency finder, CV/resume distribution, and links to more than 200,000 jobs.
Irekruit
Irekruit features the best job sites in the UK, US, Canada, and Australia. Learn which job sites are the best to visit, whatever job sector you are in. This website covers job sites in various countries, including the UK, US, Canada, and Australia.
MedicSolve
MedicSolve features the best job sites for medical, health care, and pharmaceutical jobs. MedicSolve.com provides free advice on how to find your next job, listing the best job sites, recruitment agencies, and employer sites.
---
These links are provided for informational purposes only. Inclusion does not imply any endorsement of the third party products, services, information, or resources provided. We do not make any claim as to the quality or content provided through these links.