Become a Scribendi.com Affiliate
Earn extra cash by referring friends to Scribendi.com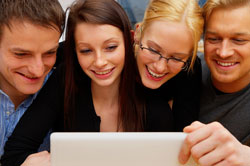 Do you have a dedicated and active following on your blog? Do you have lots of friends on Facebook? Are you ready to make some extra cash? Then the Scribendi Affiliate Program is for you!
In business since 1997, Scribendi.com is the leading online editing and proofreading company. We provide services to enterprises, academics, authors, bloggers, corporations, web masters, business people, resume writers, and undergraduate and graduate students.
We want you to earn money simply by referring your friends and followers to us. You don't even need a blog—you can earn cash through your Facebook and Twitter accounts too!
Refer and earn!
Simply fill out this form and we'll send you information on how to become a Scribendi.com Affiliate and start earning money today!
Earn money when you refer customers to Scribendi.com
Once you sign up for the program, you'll receive
generous and upfront commissions;
regular payments;
a referral link for your blog or social media accounts; and
free marketing materials, such as banner ads.
Getting set up is quick and easy. We've partnered with Ambassador to provide our affiliates with trusted third-party tracking and payment processing. We want to reward you, our loyal customer base, with the ability to refer your friends and followers to earn extra cash. Sign up and get started today!