Customer Case Studies
Client solutions and cost savings realized by using editing and proofreading services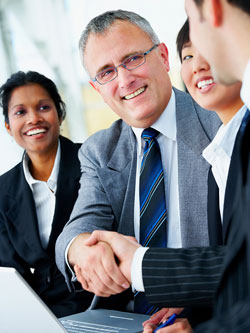 The use of our editing and proofreading services has saved numerous companies and individuals time and money. Here, you'll find client case studies highlighting several such solutions and cost savings.
Are you a current client who would like to be featured in our case study program? Please use our contact form to apply.
Some of our most popular case studies:
---
BayGroup International
BayGroup International is a global performance improvement firm whose main goal is to help corporate leaders reach critical business goals quickly and profitably. BayGroup International is a loyal customer who has seen cost savings and increased efficiency by outsourcing their editing and proofreading needs. To see how BayGroup International has saved time and money by using our services, please read the BayGroup International Case Study.
Tammy Wilkinson–Published Author
Tammy Wilkinson is a published author who recently wrote Blood of the Ancients, a book about a romance between a vampire and a human. She struggled with finding the perfect editor for her manuscript, and after much research, chose to outsource her manuscript editing to us. For information about how our editor's editing and comments helped Tammy publish her novel, please read the Tammy Wilkinson Case Study.
Roman Krzanowski, Ph.D.–Published Author
Roman Krzanowski is a published author and Ph.D. with over 20 years of network design and IT experience. His latest book, The Tao of Network Design, provides 30 rules of network design based on principles the author has come to understand after years of working with network services and different network architectures. For information about how one of our experienced technical editors helped this book get published, please read the Roman Krzanowski Case Study.
Andrea Stein–Published Author
Andrea Stein is an Amazon bestselling author, specializing in romance and suspense novels. Her most recent success, Rough Harbor, has been described as a contemporary romance novel with a twist. She struggled to find an experienced romance novel editor that could meet her desired turnaround time. For information about how one of our seasoned romance novel editors helped Stein polish her work, please read the Andrea Stein Case Study.
Guiditta Cordera-Moss–Published Author/Academic
Guiditta Cordera-Moss is a professor in the Department of Private Law at the University of Oslo. Cordera-Moss has published over 50 scientific articles, book chapters, and books. For several years now, our expert team has consistently provided this loyal customer with superior-quality editing. For more information about how our academic and manuscript editors have helped the professor meet rigorous standards, please read the Guiditta Cordera-Moss Case Study.