Scribendi Inc. Acquired by MAGNUM Capital
Online editing company Scribendi Inc. acquired by private investment firm
Chatham-based editing and proofreading company Scribendi Inc. has been acquired by MAGNUM Capital Partners, a private investment firm led by Patricia Riopel and Enrico Magnani.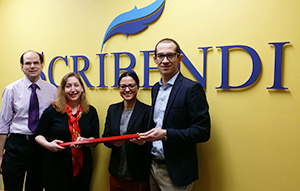 Current Scribendi president and Chatham native Chandra Clarke founded Scribendi in 1997 and, along with vice-president and husband Terry Johnson, has grown Scribendi into a network of more than 300 editors who provide document revision services to clients in all sectors, including business, academia, and publishing.
The company now welcomes another husband-and-wife team to the helm in Riopel and Magnani, who plan to pursue sustainable growth strategies that will extend the company's reach and influence in the industry.
Scribendi is a proud member of the Chatham-Kent community and will remain in Chatham after the acquisition, with Riopel and Magnani relocating from Montreal. The company will remain involved in the community, continuing to support local initiatives and causes.
"We are absolutely delighted to be able to bring Patricia and Enrico to Chatham-Kent and to keep Scribendi in CK," said Chandra Clarke. "We are confident they will continue to grow and expand this company."
Over the last 20 years, Scribendi has cultivated a reputation as a leader in online editing services, helping both native English speakers and those speaking English as a second language to communicate clearly and effectively, no matter their field, location, or level of proficiency.
Terry Johnson says he is proud of what Scribendi has accomplished. "Back when we started, we chose Chatham-Kent as the right location to build a worldwide business. At the time, not everyone believed it could be done here, but more than one billion words later, I think we can now safely say that we were right. Chatham-Kent is a great community to live, work, and create jobs in. We would like to thank all the community leaders, the Business Development Bank of Canada, and above all, everyone at Scribendi who believed in us along the way."
He continued, "Over the years, we've seen many other local businesses grow to diversify our economy, and we look forward to continuing to invest in Chatham-Kent."
Along with a world-class board of directors who will provide strategic guidance and expertise, Riopel and Magnani will bring their diverse knowledge and experience to Scribendi. Riopel holds an MBA from IESE Business School in Barcelona and a Bachelor's degree in Commerce from McGill University in Montreal. Prior to co-founding MAGNUM, she worked with Développement International Desjardins, a subsidiary of the Desjardins Group, launching and operating financial institutions in tough business environments in Africa and Latin America. Magnani also holds an MBA from IESE Business School in Barcelona, as well as a Master's degree in physics. He has worked in a multitude of industries as a consultant at McKinsey & Company and has collaborated with SMEs and startups in the tech and clean energy sectors.
"Chandra and Terry have built an incredible success story with Scribendi," said Patricia Riopel. "We have big shoes to fill, but we are excited to continue their legacy and to promote a great local business on the international scene."
Under Riopel and Magnani, Scribendi will continue to provide high-quality editing and proofreading services in order to help even more people communicate clearly and effectively in English.