Win Free Access to GrammarCamp.com
Scribendi.com holds a contest for free access to English grammar training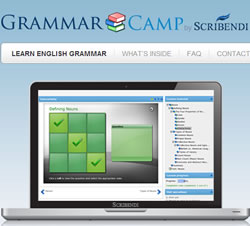 Editing and proofreading expert, Scribendi.com, is giving away free access to GrammarCamp.com to one lucky winner.
"GrammarCamp.com is an interactive online training course for anyone interested in learning English grammar," said Karen Ashford, Marketing Manager at Scribendi.com. "We're giving away free enrollment in the course to help promote and teach good grammar around the globe."
Writers of all skill levels can benefit from the online e-learning program by polishing their grammar and writing skills to improve their overall level of communication. GrammarCamp.com is perfect for academics, students, authors, business writers, and individuals for whom English is a second language.
"Scribendi.com, the leader in online editing and proofreading, is thrilled to be able to offer resources aimed at helping individuals improve their writing abilities," said Samantha Russell, VP of Operations at Scribendi.com. "Providing access to GrammarCamp.com is just another way that we help writers reach their full potential."
Visit the official contest page to learn more about entering this contest.
Good luck!