Essay Writing Course Launched on Udemy
The online course, How to Write an Essay in 5 Easy Steps, is now available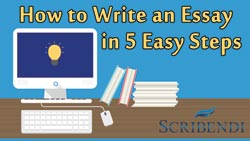 Scribendi.com, the ISO-certified editing and proofreading company, has launched its first online training course on Udemy, How to Write an Essay in 5 Easy Steps. It is now available at Udemy, the world's largest online learning platform.
"We are thrilled to release our How to Write an Essay in 5 Easy Steps online course to the public," said Karen Ashford, marketing manager at Scribendi.com. "As one of the world's most recognized experts in the editing and proofreading industry, we have drawn from decades of experience to create an online course that offers informative advice and clear steps to help students reach their academic goals."
Based on the ebook How to Write an Essay in 5 Easy Steps, this online course targets to the student and academic markets and will teach those enrolled:
How to figure out what their instructor wants
How to research their topic
How to organize their notes, thoughts, and ideas
How to write their essay
How to edit their essay
Taking this course will give you the tips you need to write your next college essay quickly, while still ensuring the quality is there to get the best grade possible. Applying principles commonly used in the academic arena, it also covers the four main types of essays that students are most likely to write: persuasive, expository, narrative, and argumentative.
"The popularity of our essay writing tips on our website prompted us to develop this comprehensive course," said Chandra Clarke, president of Scribendi.com. "We look forward to being able to serve our customers in this new format."
Scribendi.com is no stranger to course development—it launched GrammarCamp.com, EditingCamp.com, and ProofreadingCamp.com last year—and it is enthusiastic about venturing further into the online learning field with Udemy. Scribendi.com is looking forward to reaching even more people around the globe with this easily accessible online course.