Scribendi.com Welcomes Office Users!
Editing and proofreading services
Our expert editors and proofreaders will review your Microsoft® Office files, checking for missed words, grammar, style, and organization. Scribendi.com makes use of Office proofing and collaboration tools including tracked changes. You'll be able to see what we've done because the changes will show up in red; you also have the option of accepting or rejecting each change as you see fit, giving you complete creative control. Our prices start from under one cent to five cents per word for editing and proofreading, depending on the deadline and service type required.
Browse our menu to choose the most appropriate service type.
Order online and upload your Office file for immediate service.
All versions of Office (1997-2016) and Office file types are accepted.
Major credit cards are accepted securely online. PayPal and other payment methods are also accepted.
If you choose one of our express services, your revised file is ready to download in as little as four hours.
Contact us if you have any questions.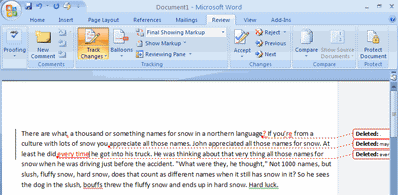 Businesses: If you have editing or proofreading needs, ask us about business accounts, customized packages, and XML Web Services integration.
---
Microsoft and the Office logo are trademarks or registered trademarks of Microsoft Corporation in the United States and other countries.