Win a FREE membership to GrammarCamp.com!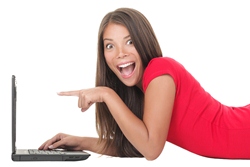 Do you want to improve your communication skills?
Scribendi.com is giving you a chance to receive FREE LIFETIME access to GrammarCamp.com's comprehensive English grammar training course.
How to enter:
Subscribe to Scribendi.com's newsletter using the subscription box below.
How does it work?
Entering this contest is easy! Simply subscribe to Scribendi.com's Grammar Advice newsletter. The Grammar Advice newsletter features weekly articles and advice about grammar and writing, as well as inside access to coupons for Scribendi.com's services.
The contest runs from May 1, 2013 to June 12, 2013. A winner will be chosen and contacted by email on June 13, 2013.
Prizes
The winner receives free lifetime access to GrammarCamp.com. All participants receive a 10% discount on lifetime access to GrammarCamp.com.
Rules and Regulations
1. HOW TO ENTER: No purchase necessary to enter. Visit the Scribendi Inc. website, https://www.scribendi.com/grammarcamp_giveaway, for details. The contest starts May 1, 2013, and ends June 12, 2013. You must remain subscribed to the GrammarCamp newsletter until the end of the contest to be eligible to win. When you subscribe to the GrammarCamp newsletter, you are agreeing to the rules and regulations of the contest.
2. PRIZES: There will be a total of one (1) prize available to be won. The prize consists of one (1) free subscription to GrammarCamp.com, which will be delivered directly to the winner via email. Prizes are determined by Scribendi Inc. and must be accepted as awarded, and are not transferable. One entry per person. Creating multiple subscriptions to the GrammarCamp newsletter to enter multiple times will automatically disqualify you from the contest. Only one (1) prize may be awarded per person.
3. DRAW: A random draw will be conducted at the end of the contest, which will take place on June 13, 2013. The winner will be drawn randomly from among all eligible entries received on or before the date the contest closes. Odds of being selected are dependent on the total number of eligible entries received. The winner will be selected via a random drawing. The winner will be contacted via email and asked to provide his or her first and last names and email address.
4. GENERAL RULES:
a. In order to be declared a winner, entrants must correctly answer, unaided, a time-limited, mathematical skill-testing question by phone at a predetermined mutually convenient time. The winner will be required to sign a standard declaration and release form, confirming their eligibility and compliance with the contest rules and releasing Scribendi Inc. from all liability caused by, or resulting from, the acceptance or use of the contest prize. In the event that a selected entrant cannot be contacted within two weeks of the contest draw, another entrant will be selected.
b. This contest is open to residents of Canada, excluding residents of Quebec, and the United States of America. Participants must be 18 years of age or older to enter. Employees of Scribendi Inc. and/or their immediate family (spouse, parents, siblings, and children) and household members (whether related or not) are not eligible. Void where prohibited.
c. All decisions are final.
d. Scribendi Inc. assumes no responsibility for lost, stolen, delayed, damaged, or misdirected entries, or for any failure of the website during this contest; for any problems or technical malfunctions of any telephone networks or lines, computer online systems, services, access providers, computer equipment, or software; or any failure of any email or entry to be received by Scribendi Inc. on account of technical problems or traffic congestion on the Internet or the website or any combination thereof, including any injury or damage to an entrant's or any other person's computer, related to or resulting from playing or downloading any material in the promotion. Any attempt to deliberately damage the website or to undermine the legitimate operation of this promotion is a violation of criminal and civil laws and, should such an attempt be made, Scribendi Inc. reserves the right to seek remedies and damages to the fullest extent permitted by law, including criminal prosecution. Entries are subject to verification and will be declared invalid if they are illegible, mechanically reproduced, mutilated, forged, falsified, altered, or tampered with in any way. Scribendi Inc. reserves the right to change the terms of this contest, or to terminate it at any time, without prior notice. Please allow at least 4–6 weeks for the delivery of the prize to the winner. The winner is responsible for any taxes and fees associated with the receipt or use of their prize.
e. No correspondence regarding the contest will be entered into, unless determined by Scribendi Inc., except with the selected entrant, who will be notified by email to the account they used to enter the contest. Entrants, by entering this contest, agree to abide by these contest rules and the decisions of Scribendi Inc. Contest winners must consent to the use of their name or photograph, without compensation, in any future publicity carried out by Scribendi Inc. in connection with this or any similar contest.
f. This contest is governed by, subject to, and construed in accordance with the laws of Ontario, Canada, excluding all conflict of law rules. If any provision(s) of these rules is held to be invalid or unenforceable, all remaining provisions hereof will remain in full force and effect. This contest is subject to all applicable laws. Void where prohibited, or where this contest may not comply with local laws.
g. Entrants agree that the personal information collected for the purposes of this contest can be collected, used, and disclosed by Scribendi Inc. in accordance with its privacy policy, which is available on its website.