Bookstore
The Complete Guide to Sentence Structure
English grammar might as well be a three-ring circus. A juggler tosses subjects and predicates under the big top. Inside the enormous tent, a ringmaster tries to tame clauses. Verbs hang, swing, and twist from the ceiling like trapeze artists. All the action is very exciting, but it can also be a little overwhelming.
Don't be afraid! While there is a lot to experience, it's absolutely possible to have fun amidst the chaos. This comprehensive approach to sentence structure will allow you to master English grammar using fun examples. You'll be jumping through fiery hoops and walking tightropes in no time without even breaking a sweat!
Well, maybe not, but, at the very least, you'll be forming complex sentences and writing with full confidence in your English grammar. The former set of skills may sound exciting, but, rest assured, the latter set is much more practical (and much safer!). The Complete Guide to Sentence Structure will help you master English grammar using the different parts of speech to structure sentences.
The Complete Guide to the Parts of Speech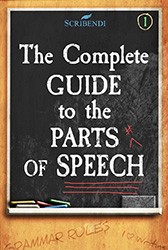 Learning English grammar is a lot like baking a loaf of bread. Everything is going fine until you see that the recipe calls for two tablespoons of sugar and five cups of flour. You always get those two things mixed up—which is the flour and which is the sugar? Why does the bread recipe call for so much flour in the first place? You take a guess at which ingredient to use, but you guess wrong. Your sugar-and-yeast lump isn't going to go very well with dinner.
If you want your bread to be bread, you have to use the right ingredients. The same is true with English grammar: if you want your sentences to be sentences, you have to use the right parts of speech, and you have to use them properly. Too many articles, not enough verbs, or misplaced prepositions all have the potential to ruin what could otherwise be a perfectly good sentence. That's why it's so important to learn all about the different parts of speech.
The Complete Guide to the Parts of Speech will teach you more than you ever knew there was to know about the parts of speech, from what they are to how to use them and how they work together. Use this complete reference guide to learn English grammar, and you'll never mix up your ingredients again.
Unlocking the Art of Fiction Writing
You want to write great fiction, but your stories keep handing you your hat and slamming the door in your face. Not even a peck on the cheek or a doggie bag of leftover pastries with the icing starting to melt. Have you tried knocking on that door? Hitting it with large tree branches or plastic garbage cans? Shouting? It's a sturdy door. You can't break it down. It has eight locks, and the doorbell is broken. If you really want in (and it's getting cold outside . . . do you feel that breeze picking up?), you need some keys.
Unlocking the Art of Fiction provides eight keys, one for each of those locks. Whether you need help coming up with winning ideas, chaining up the bogeyman that is writer's block, understanding the tools of the trade, or finding your own voice and style, this book has the right key for you. Unlock the door. Step inside. There's a story in this house, and it's your story. It's waiting for you. And it has a plate of fresh pastries.
How to Write an Essay in 5 Easy Steps
This book explains how to write an essay in five easy steps. This simple essay writing guide can be used by high school, college, or university students. How to Write an Essay covers the various kinds of essays, how to quickly research your essay, and how to organize your essay so your instructor can easily follow your thoughts. It delves into how to write your essay, how to write a thesis statement, how to use and format citations properly, and how to revise your essay to make sure you eliminate as many errors as possible before submission. And, this essay writing guide gives you bonus instructions on how to make your essay stand out.
You'll also see an example of a college-level essay that received the best grade in the class—to serve as a model of how to structure and write your next paper. Your essay writing skills will improve. Sail through your next college essay with this easy guide . . . and if your essay is due in the morning, this guide will help you get it done on time!
How to Write a Letter
Never be at a loss for words again. Learn to write a letter today. This e-book will help you write just about any letter you need quickly and effectively. Featuring step-by-step instructions, easy-to-use examples, and five key words and five key phrases for any occasion, this guide will make you feel confident about your letter writing skills. How to Write a Letter covers the mediums and methods of letter writing; digital communication and professionalism; and how to prepare, plan, and structure your letter. It also describes how to refine your letters with editing and proofreading. The topics discussed in this letter writing handbook are meant to help you create purposeful, convincing letters and attain your goals by enhancing your communication skills.
By following the guidelines this letter writing book presents, your letters—either physical or digital—are sure to be a success. Whether you're looking to write a thank-you note, a cover letter, an invitation, or a business e-mail, this comprehensive guide to letter writing will walk you through the steps of creating thoughtful communication. It even includes a bonus section with tips on words and phrases to help improve your writing. Letter writing made easy!
How to Write a Blog
This blog book explains how to write a blog from beginning to end in seven easy steps. It is a useful guide for new bloggers, moderately experienced bloggers, or anyone who is interested in how to start a blog for individual or commercial use. We explain how to determine what niche your blog will be targeting, where your ideas fit into what's already been done, and what type of blog is most suited to your interests. We look at the various paid and free platforms you can use for blogging and explain exactly how to get started with them. We provide hints for the research stage, help you to find a writing schedule that fits the goals you have for your blog, and discuss the various privacy issues involved in blog writing. Finally, we also instruct you on how to manage your blog, including how to moderate comments, and help you understand basic search engine optimization (SEO) and other techniques to ensure your blog gets read.
Whether you're looking to write a blog for recreation or to make a little extra cash, How to Write a Blog will walk you through the entire process in seven easy steps—from selecting your topic to marketing your ideas. It makes blogging for beginners easy. As an added bonus, we've put together an extensive resource section that provides tools and resources that every blogger should know about. After reading How to Write a Blog, you'll be ready to start your next project . . . and have the confidence to bring your ideas to life!
Effective Business Communication
Whether it's a misunderstanding with your co-worker or a blunder with your boss, failure to communicate in the workplace can spell disaster for your career. Drawing on the advice of top business professionals like Jack Welch and Sheryl Sandberg, Effective Business Communication discusses the five fundamentals of good communication that can offset the common causes of failure. This business writing book discusses each fundamental in detail, offering practical examples and advice on how to apply them in your daily life.
As a bonus, each chapter includes tips on how to improve your business writing skills in the workplace. Whether you're a CEO or an entry-level employee just starting out your career, Effective Business Communication will help you quickly and easily improve your business writing.