General Questions About Scribendi.com
What are your credentials? Is your company qualified to handle my manuscript/document?
Before we'll even consider hiring them, all our editors and proofreaders must, at a minimum:
Have a university degree or college diploma
Have at least three years of professional experience as an editor or proofreader
Be native English speakers
Provide samples of their editing and proofreading work
Pass a language certification test
A typical Scribendi.com Word Warrior has two or more degrees, 15 years of professional experience, and is published in his or her chosen specialization, be it romantic fiction or molecular biology. See what our customers have to say about our qualifications—view a long list of recent comments and customer feedback on our Client Testimonials page.
Do I need to register to pay? What are the benefits of registering with Scribendi.com?
You don't need to register to use Scribendi.com editing and proofreading services, but if you do, you can save time and money! If you register, you will benefit from a number of features:
Whenever you place an order, you save time because your name and address are remembered.
Log in to view all your current and previous orders.
Qualify for special offers, discounts, and customer rewards.
Have your orders billed to a business account.
Your personal information will be kept confidential (see our Privacy Policy for details), and your credit card details will not be stored in your customer profile.
What are your prices based on?
We have a no-surprises, easy-to-calculate pricing system based on two things: word count and turnaround time. Unlike other editorial and language services companies, we don't offer vague quotes based on a hefty hourly rate, we don't have confusing per-1,000-word rates, and we provide instant quotes for all our standard services. Every service page you look at on this site has a handy "quote widget," where you can plug in your word count and get an exact price. For details on how to determine your word count, see our How Do I...? FAQ.
How long have you been in business?
We've been online and in business since 1997.
What are your payment options?
Our preferred method of payment is via credit card: we accept Visa, MasterCard, American Express, and JCB cards. Scribendi.com uses a secure system and receives your information through industry standard encryption. We can also accept Discover and Switch/Solo cards through PayPal, as well as PayPal payments. Registered retail customers and corporate/government/organizational clients can arrange payments via ACH, eCheck, paper check, or money order.
When do I get a price break?
Our quote widget automatically calculates and applies a discount: A) when you choose a service with a longer turnaround time, and B) when you want us to work on a large document. For example, it's cheaper to order the 48-hour turnaround service than it is the 24-hour service. Or if you have a very large document, we apply discounts for higher word counts.
If you belong to a business, organization, or agency and would like to retain our services for a large project or over the longer term, we would be happy to discuss your needs. See our Corporate and Government services page for details.
How much does it cost?
Our prices are based on word count and turnaround time, but in general, they range from about one cent (USD) per word to about six cents (USD) per word. To find the rates or pricing for your document, simply go to the service page you need (see the Services menu, above), and use the instant quote widget on the page to generate a free quote.
I'm a first-time customer. How can I trust you?
If you have a book-length manuscript, and you'd like to see a sample of our work, we offer a free, five-page sample edit. It's our way of letting you "try before you buy" for large orders.
While we can't offer free samples on smaller documents, you're welcome to submit excerpts or sections of your document to see how we do; we have no minimum order size, and our minimum charge is just $4.55 USD.
For more information about our company and our credentials, you should also have a look at our About Us FAQ and the company profile page here. You are also welcome to review a long list of recent Client Testimonials.
Where can I find a discount code?
We sometimes release coupons to popular discount sites on the Web. Check with your favorite coupon site to see if Scribendi.com has any current promotions.
I live in another country. Can I still use your service?
Definitely. Scribendi.com is a global company in every sense of the word. As long as you have a valid credit card or PayPal account or can arrange to send a check or money order, you can use our services.
How can I find my editor's code?
You can find the code of the editor who worked on your document by checking your Order Pick Up notice or, if you are registered with Scribendi.com, by looking at the Order History in your account. If you still can't find the editor's code, please feel free to ask customer service.
Do you check for plagiarism? Do you rewrite or paraphrase?
No, we don't check for plagiarism, write, rewrite, or paraphrase work.
Your website seems mostly upload/email based. I have a slow Internet connection. Can I fax/post you stuff?
Sure! You can fax short documents to us, or use the post office or a courier service to send us a floppy disk, CD, or paper copy for longer documents. Just see our contact page for details on how to get in touch via post or courier.
How can I contact you? What's your phone number?
You can send us an email through our contact page or you can call us at +1 (519) 351-1626.
Where can I find out more about your company?
What if I'm not satisfied with the work done?
Scribendi.com takes customer satisfaction very seriously. Please file a feedback report with us (there will be a link on your order details page), or get in touch with us using the Scribendi.com Contact Us page or +1 (519) 351-1626 and we will look into your issue immediately.
Do you guarantee your work?
If you are not happy with our work, please tell us, either by using the contact form or by filling out the feedback form on your order pickup page. We stand by our work and we will investigate your concerns immediately.
What style guides do you work with?
We have worked with dozens of style guides. The most popular are American Psychological Association (APA), Modern Language Association (MLA), Turabian, Chicago Manual of Style, Harvard Referencing, and Council of Science Editors (CSE). We can work to your target journal's style guide (just send us the details), and we can work with corporate/internal style guides as well.
How can I get in touch?
If you've read ALL our FAQs and the rest of the website, and you still have a question, see our contact page for details on how to get in touch. But please do read all our FAQs first! We've worked hard to make them comprehensive, and chances are you'll find your answer in there somewhere.
What are your business hours?
Our website is open for orders 24 hours a day, seven days a week. Our editing professionals are based all over the world, so they're also on duty 24/7. Our administrative staff is available between 7 a.m. and 10 p.m. EST (GMT -5); we generally answer all emails within 24 hours, if not sooner.
How long will it take to get my document back?
That depends on the service you order! We offer the following turnaround times for editing and proofreading:
Same day/overnight premium service: within 8 hours (for documents of 4,000 words or less).
12-hour service: within 12 hours (for documents of 6,000 words or less).
24-hour service: within 24 hours (for documents of 10,000 words or less).
48-hour service: within 48 hours (for documents of 25,000 words or less).
72-hour service: within 72 hours (for documents of 40,000 words or less).
1-week service: within 1 week (for documents of 65,000 words or less).
Larger documents: rule of thumb for editing and proofreading = 65,000 words per week.
Do you have a minimum order size?
No. We do have a minimum charge of $4.55 USD, however, to cover administrative costs. If you have several small orders to make, you might consider putting them all on one order to avoid the minimum charge.
How does the Scribendi.com system work?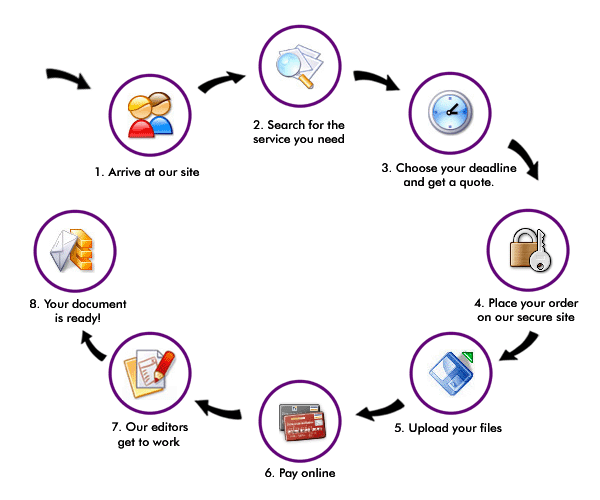 What kinds of things do you edit?
Everything. And we're not kidding here, either. We have experts on staff in every field/genre, and since we've been in business so long, we've seen just about every different type of document there is. So no matter what subject or field you're writing about, rest assured we have someone who can edit it.
Just what is a "Scribendi" anyway?
Scribendi comes from a Latin phrase, cacoethes scribendi, which means "the urge to write."
Where are you located?
We're here, we're there, we're everywhere! Seriously, we have offices all over the globe. Our headquarters, which is where all communications are channeled, is based in Canada. If you've read all our FAQs, and still have a question for us, see our contact page for details on how to get in touch.
Are you guys actual human editors and proofreaders, or is it all done by machine/software?
It's real, live human beings doing the work here.
Do you have editors who know/understand UK English/International English/US English?
Yes, we know all about metres and meters, humour and humor, and spanners and wrenches. Just specify what type of English we should be using when you place your order.
What do I get for my money?
You get your document or manuscript returned to you within your chosen deadline, and with revisions, suggestions, and corrections appropriate to the type of service you've requested.